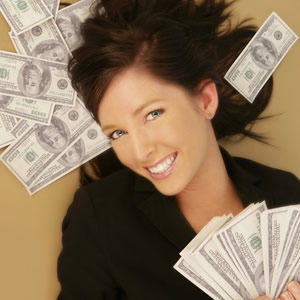 The biggest lottery loser to make headlines this week is an Albany, N.Y. man who skipped out on an office pool that won the $319 million Mega Millions jackpot. ABC News reports he chose not to join in the office lottery pool because he wasn't feeling lucky, and guess what -- he was right.
The man's unlucky choice cost him millions, and we can't help but examine the link between his lottery loss and the power of intention.
As Daily Defenders of Good Karma, we're gonna go ahead and use this as a reminder to us all that we get back what we give -- even when it comes to winning the lottery. It all comes down to having a positive attitude and acting with intention that will get the right results. That, friends, is called good Karma.
Can generating good Karma help you win the lottery? Meh, who knows. But we do know that bad Karma sure won't help, and annoucing to the world that you feel unlucky doesn't set up the intention of a winning scenario.
We all know Karma can come back in unexpected ways. And maybe it really can help you win the lottery -- just read about these two kind souls in Portland, Ore. who found winning lottery tickets on the street and were able to use the winnings when they really needed them. As one of them explains, "I always am nice to people, and I believe always being nice and kind to others produces good Karma. Karma always comes back to you, but, sometimes people miss it. They miss it because they're too busy, or just plain don't realize it sits right in front of them."
Albany's lottery loser missed out this time, but it's a good lesson to keep building better Karma so our odds of winning the Mega Millions will be better next time. And even if we don't win the cash lottery, our good intentions will surely help us win a Karma lottery that's priceless.
What do you think? Does having good Karma can help you win the lottery?
If you like what you see on dailyhoroscope.com, please consider following us on Facebook and Twitter.