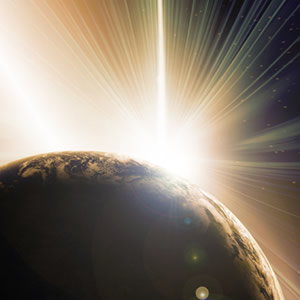 While planets like Mercury and Mars tend to move quickly around the zodiac, it's the movement of the outer lying planets that is a rarer occurrence, because they're farther away from the Earth and Sun. When Jupiter, Uranus and Neptune make their transits this year, their impact is heavy; these are the planets of enterprise, invention and vision, and 2011 will see major themes of social change in the dawn of a new era of faith and humanity.
Jupiter in Aries: January 22, 2011 - June 4, 2011
During this transit, expect to enter a "brave new world" as expansive Jupiter enters pioneering Aries. Taking risks, brainstorming new ideas and innovations are the themes here, and being bold could lead to exciting -- or detrimental -- outcomes. We'll be challenged to see ourselves in new ways during this time, roughly the first half of the year, and humanity as a whole could see big changes as we overcome our differences. Most of all, while jumping headfirst into actions could be a mistake, being spontaneous is worth the risk.
Jupiter in Taurus: June 4, 2011 - June 11, 2012
As soon as Jupiter leaves Aries this year, it enters Taurus, taking with it the innovations sparked by the first sign of the zodiac and bringing them back down to earth. For one year, this is when we'll start to see our efforts truly pay off with tangible results. But this is Taurus we're talking about, and things could take a very stubborn and greedy turn, and it will be important to remind ourselves that money isn't everything. Philosophical Jupiter in Taurus narrows our desire to be intellectual and ask the big questions; the challenge will be to strive for personal growth and a universal truth that works for others.
Uranus in Aries: March 11, 2011 - May 15, 2018
The revolutionary sign of Uranus makes a great co-captain of change with Aries, the sign of leadership. For seven years this transit will be in effect, spurring invention, innovation and discoveries on a greater scale -- especially in fields of science and technology. Humanity as a whole could make major strides in understanding the true nature of matter and our origins during these seven years. On a more personal level, it will be a great time for personal experiments in all facets of life.
Neptune in Aquarius: August 4, 2011 - February 3, 2012
Faith and intellect meet head-on with this paradoxical combination of visionary Neptune and humanitarian Aquarius. While this transit can detach us from our spiritual side, it encourages us to step up for the good of our environment and surroundings, and step outside of ourselves for the needs of others. In the last decade, we saw our willful denial of logic; this could grow even stronger during the last months of Neptune's fourteen-year visit to Aquarius. The connection between intuition and thoughts is prevalent here -- an inward period of integrating mind and body.
Mercury Retrograde in Virgo: August 2 - August 26
There are three Mercury Retrograde periods in 2011, but the one to beware most takes place in the meticulous sign of Virgo. Virgo is a precise sign that favors perfection, so this will be a retrograde period that can cause even more confusion and mistakes than your typical Mercury Retrograde. The challenge will be to face this retrograde and its resulting snafus with creativity -- especially since Mercury will enter artistic and expressive Leo on August 8.
Lunar Eclipse in Sagittarius: June 15
The Lunar Eclipse in open-minded Sagittarius could clip the wings of religious leaders, reshape laws, and improve legal systems. It signals a step back from orthodoxy and a willingness to engage in dialogue with other people who may have a different point of view. Mental Mercury is joined with the Sun in clever Gemini, raising the stakes of debate. Conversation is worth more here than the claim of absolute truth.
Solar Eclipse in Cancer: July 1
This Solar Eclipse in tribal and nationalistic Cancer is opposed by powerful Pluto and squared by unpredictable Uranus. Unfortunately, the energy could be expressed through genocidal tendencies or environmental disasters. While this eclipse will not be visible from land, it's a reminder to let go of deeply rooted responses, habits and rituals that tend to alienate individuals and groups from one another.