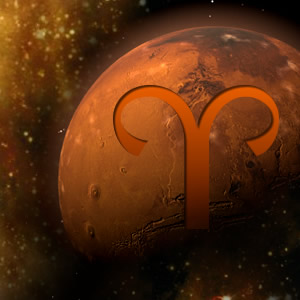 It's time to turn it up a notch. No ... it's time to turn it up 10 notches! Ready or not, action-planet Mars powers into its fiery home sign of Aries on December 31, 2018.
Everything intensifies now as our minds and bodies act out with enthusiastic, spontaneous energy. Mars in Aries brings a perfect storm of innovation mixed with immediacy, making this six-week period a perfect time to start new projects and take bold risks. Though we may not have all our ducks in a row, as long as we can remain adaptable and modify our plans after the ball is already rolling, we should be able to move along productively.
Want to approach that person you've had your eye on? Thinking of jumping ship from your job? Planning on proposing to your lover? Hey, feel like skydiving? Mars in Aries is the time to do it! Our urge for action trumps our fears as impatience sets in and we're eager for a thrill.
But it's not all go-go-go positive here ... with all the heated, impulsive energy in the air, anger and aggression can swiftly take center stage. We're quick to react without thinking things through, lashing out on whoever is in our way. Thankfully, this hurried pace can be a two-way street, meaning just as quickly as the anger surfaces, it can dissipate -- but that's up to us.
Mars in Aries is about boldly going where no man has gone before (thank you, Captain Kirk!). Adrenaline runs high now and we're eager to try new things. As long as we keep rein on our aggressive feelings, Mars in Aries can be an incredible time of forward movement and excitement for us all.