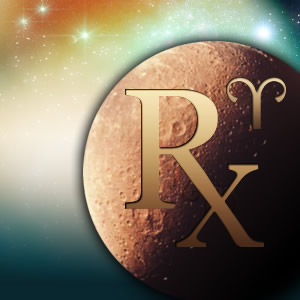 Hold on and prepare your mind for Mercury Retrograde in courageous, impatient Aries! From March 22 to April 15, 2018, you'll find your mind moving quickly toward an overload of information. The good part about this is that you'll be flooded with new concepts and contacts in your personal and professional life, but impulses will be quick to trigger.
Read your sign's Mercury Retrograde Horoscope below to see how YOU may feel the burn...
Aries (March 21 - April 19)
The communication planet's backward turn in your sign makes it harder for you to get your message across. Others tend to misread your intentions, especially when you are in a hurry and don't express yourself clearly. Be careful -- you could say something that you'll regret later due to your spontaneous outbursts of thoughts and feelings.
Taurus (April 20 - May 20)
Mercury's retrograde turn in your 12th House of Privacy can stir up secrets from the past. Confidentiality must be respected because a simple slip of the tongue can be embarrassing. On the plus side, this is an excellent time for meditation and reflection if you take a step back for a more objective perspective.
Gemini (May 21 - June 20)
Miscommunication and confusion with friends and colleagues is expected with Mercury retrograde in your 11th House of Groups. Teamwork may become more challenging, but this period is a favorable one for reconnecting with an old pal or someone with whom you've worked in the past. If you can maintain a sense of organization and togetherness, your relationships could become greater -- if not, the opposite may be the case.
Cancer (June 21 - July 22)
Mixed messages in your professional life are more likely while communicative Mercury is retrograde in your 10th House of Career. Avoid taking on new responsibilities without proper planning. It's better to delay projects until you've laid down a solid foundation than to take on more than you can handle.
Leo (July 23 - Aug. 22)
Travel and communication to and with faraway places are likely to be complicated with Mercury's retrograde passage in your 9th House of Travel. Education issues are also more complex during this transit, requiring greater attention to detail if you want avoid scheduling and study issues. Use this time to focus your strengths on improvement, rather than succumbing to the building pressures of schoolwork, or your job – so that you can more easily escape, mentally and physically, after the retrograde period.
Virgo (Aug. 23 - Sept. 22)
Retrograde Mercury in your 8th House of Deep Sharing can kick up relationship issues that you thought were already settled, which can lead to sudden confusion and ultimate frustration. Renegotiations in personal and business matters may be required to overcome different points of view -- but don't let yourself be rushed by impatient and irresponsible people. Be the bigger person when discrepancies are left unsolved.
Libra (Sept. 23 - Oct. 22)
Mercury's retrograde turn in your 7th House of Partners revives relationship questions that you thought were already settled. Past romances, flings and acquaintances you left behind may spring up once again, causing you to interact with unlikely figures. Getting off to rocky starts with new people is also possible. Standing up for yourself may require more effort, but it's better than letting things slide until they're too late to fix; this could make you a stronger and more confident in the end.
Scorpio (Oct. 23 - Nov. 21)
Mercury retrograde in your 6th House of Work could stir up confusion on the job, especially if new systems are being put into place. Watch for technological snafus and disorganization in your professional and personal life.
Sagittarius (Nov. 22 - Dec. 21)
Mercury's retrograde turn in your 5th House of Romance should stir memories of love that make you nostalgic for the past. Just make sure you are prepared to deal with the emotions that could easily begin to resurface, and the actions that may result in your sudden desires. On the other hand, you can also use this time to revive old creative interests and hobbies that have been put to the side. Reconnecting with forms of recreation you've left behind inspires a sense of playfulness and joy.
Capricorn (Dec. 22 - Jan. 19)
Family matters you thought were long finished may return to demand your attention. Although it's frustrating to address something that was once settled, you may be able to produce an even better outcome this time around, clearing the way for stronger working relationships with family and friends. Home repairs and maintenance are other useful activities during this cycle.
Aquarius (Jan. 20 - Feb. 18)
Retrograde Mercury in your 3rd House of Communication tends to complicate conversations and muddle messages. Slow down when you speak if you want to be understood and take the time to listen to others more carefully, as arguments are readily sparked with a few wrong worlds. Before you know it, a small disagreement could turn into something much bigger during this time, so make sure to absorb emotions before releasing them.
Pisces (Feb. 19 - March 20)
Mercury retrograde in your 2nd House of Resources could play havoc with your accounting. Spending impulsively is especially risky now, so avoid any serious expenses now -- you won't want to deal with the debt accrued during this retrograde period when stress runs higher than usual. Re-evaluating your abilities, though, could reveal underused talents that may be ripe for revival, leading to even more ways in which to make some unexpected income.