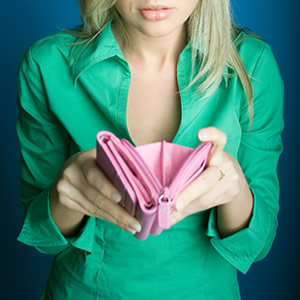 While Mercury is retrograde from July 26 - August 19, 2018, you may notice a backward turn in your finances! But, if you know the rules for success during the three-week retrograde influence, you can avoid financial stress, and even lay the groundwork for future prosperity.
Just follow these time-honored Mercury Retrograde financial guidelines:
Don't ...
Initiate new investments, financial commitments or business partnerships! You can safely assume that you're lacking critical pieces of information, and that your rational mind is on hiatus. Ventures launched during Mercury Retrograde are more likely to result in financial loss -- not to mention unanticipated delays, hassles and frustration. In a few weeks, you'll be able to view your options with greater clarity.
Do ...
Reconsider and restructure your existing financial commitments. Re-evaluate your investment portfolio, renegotiate business contracts and reassess your insurance policies and will. Reviewing your credit report -- for potential errors -- is also advised. If there's a matter from the past that needs to be completed or resolved, it's likely to come back and haunt you during Mercury Retrograde. Take care of old business now so you can make a clean move into the future when the time is right.
Don't ...
Make any major purchases! This is one of the fundamental rules of Mercury Retrograde. All computers, electronics and cars are especially verboten. Items bought now could be faulty or damaged, or turn out to be not what you really wanted. If you do buy something significant during this time, know the return policy, keep your receipt and make sure you have a warranty!
Do ...
Reconsider what you want and do your research. If you're thinking about buying a new computer, car, house or other high-money item, it's time to gather more data. Consult your feelings and intuition in addition to the hard facts. Make space for the new by reviewing what you own and weeding out what you no longer want or need.
Don't ...
Take out a loan! Loans involve contracts, and signing contracts is against the rules of Mercury Retrograde. Again, operate under the assumption that you need more information before making a big decision. If you wait a few weeks, you'll find that you need more or less money than you had thought, or that you don't need a loan after all. If circumstances require that you borrow money during this time, carefully examine all the fine print.
Do ...
Restructure existing loans and renegotiate payment plans. Your financial situation might have changed, or you may now see a better approach to paying off debt.
Don't ...
File taxes! Taxes are complicated enough -- why improve your chances for delays, errors and confusion? You don't want to have to repeat the process.
Do ...
Prepare for filing taxes. Sort through and organize your receipts and paperwork, and make an appointment with your accountant or tax person. Whether or not it's tax season, Mercury Retrograde is a great time for reorganizing your files and restructuring your bookkeeping or accounting system.
Don't ...
Take risks with money! Carelessness does not pay off during Mercury Retrograde. The flow of money is likely to slow down -- or back up and reverse -- so find ways to maximize what you have, and cut back on expenses.
Do ...
Take time to reconsider your relationship with and beliefs about money. Because your intuitive mind is stronger now, you can get deeper insight into any underlying issues related to your financial situation. If you keep coming up against the same blocks, now is a favorable time to read a book or attend a lecture or workshop about prosperity consciousness and creating abundance.