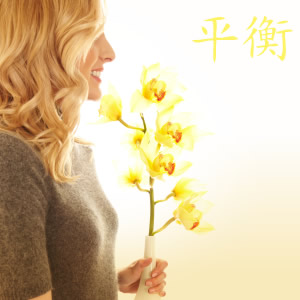 Are you ready for Mother's Day? No, we mean really really ready? See, there's no better way to honor Mom than by making some Feng Shui improvements to her space. With a few adjustments, you can give her Mother's Day gifts she will truly appreciate: rest, relaxation and rejuvenation.
By creating an environment that nurtures Mom, she'll be able to care or give of herself freely, generously and happily. It's win-win!
Beautify the bathroom
The bathroom represents your ability to self-nurture. Mothers often care for others at the expense of their own needs. Reverse the trend by creating a bathroom that is geared toward her pleasure. Fluffy towels, a plush bath mat, scented soaps, lotions and bath salts will remind Mom to slow down and relax. Painting the bathroom a warm, earthy color like cocoa, rose or honey will increase its soothing energy. Last but not least, be sure to install soft light bulbs that create lighting that is flattering and easy on the eyes.
Make the boudoir a sanctuary
The bedroom should be a place to sleep, dream and luxuriate. Therefore, it's important to create a space where Mom's daily distractions are kept to a minimum. Banish computers, televisions and exercise equipment from this space. Move photos of the kids to a more public domain, like the kitchen or living room. Replace these images with paintings of romantic couples or photos of exotic lands she'd like to visit. Splurge on quality bed linens, a firm mattress and plump pillows.
Add water and stir
Nothing wards off burnout like water. Installing a pleasant-sounding fountain will prevent Mom from feeling overwhelmed by childcare and chores. There are three optimal places for this fountain: the center portion of the front wall, the center portion of the left side and the far left corner of your home can all benefit from freely flowing water. This fountain will also give Mom a stronger sense of self, allowing her to champion her own wants, needs and desires.
Make a joy magnet
Mothers often get so caught up in providing for others that they forget to seek joy for themselves. This problem can be remedied with a few Feng Shui adjustments to the center portion of the right side of your home, the area which governs joy. This space can benefit from bright colors, round shapes, faceted prisms, toys, games and hobby-related objects. Anything that symbolizes fun for Mom should be placed here. Open containers can also be powerful remedies for this spot, as they will assist Mom in becoming more open to fun.
Stand up and be counted
Once motherhood sets in, women are often overlooked for their other sterling qualities. To fix the problem, pay attention to the fame gua, which is located in the center portion of the back wall of the home. By decorating this space in a way that communicates Mom's desired image, she will feel more respected and gratified. A mother who is seeking recognition in her career can place a thriving plant in this spot. A mom who wants to be acknowledged for her beauty and style can place a glamorous photo of herself here. Women who are proud of their intellectual accomplishments can place their favorite books in this spot. And if Mom wants to be appreciated for her mothering skills, she can put a big, comfortable chair here, along with pictures of her kids.