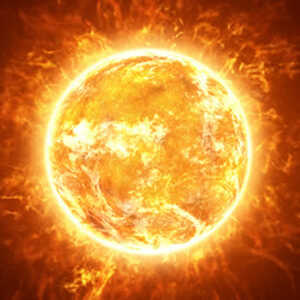 And you thought Mercury Retrograde was bad for communications! If you've been experiencing any technical difficulties in the past few days, blame it on the "Class X flash."
What in the world is that?! In simple terms, it's a solar flare -- but not just any solar flare.
NASA reports we are experiencing the effects of the "Valentine's Day Solar Flare," the strongest solar flare in four years, and it's triggering huge geomagnetic storms that are disturbing radio communications in Southern China.
"X-class flares are the most powerful of all solar events that can trigger radio blackouts and long-lasting radiation storms," NASA said on its website Wednesday.
It's also disturbing the technology here at DH headquarters in Portland, Ore., by the way. "We've had servers failing randomly for unexplained reasons and communication problems with email and cell phones," said Andrew Morelock, Senior Director of Technology -- and the man you can thank for getting your daily horoscopes emailed out on time every morning (in spite of any solar flares).
NASA said the solar flare, which originated on Monday, Feb. 14 at 5:56 p.m. (PST), could continue to disrupt electrical power grids, radio and satellite communication and even GPS systems in the few next days.
The good news? In a report by physorg.com, The British Geological Survey said the solar storm would result in spectacular Northern Lights displays starting Thursday. We like that!
Have you been experiencing any technical difficulties that might be a result of the solar flare? Leave a comment and let us know!
If you like what you see on dailyhoroscope.com, please consider following us on Facebook and Twitter.