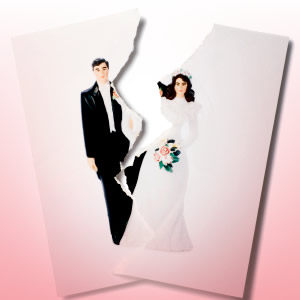 Wacky holiday alert! There's no greeting card for this, but Thursday, April 14 is National Ex-Spouse Day (seriously), and we're getting behind the idea of taking a moment to reflect on something you appreciate about your ex. C'mon, there must be something. You married 'em, right?
Why bother, you ask? Do we really want to spend our precious time thinking about the past, and dredging up thoughts about relationships that led to a painful divorce?
Yes! Because letting go of anger is a huge part of personal growth, and taking a moment to think positive about something painful is step one in the direction of good Karma.
National Ex-Spouse Day was created in 1987 by Rev. Ronald Coleman, and sure, it's non-traditional. Most holidays honor significant events or people who changed the world, but let's be honest. Didn't your ex change your world?
If you can find a way to embrace the positive ways your ex changed your life, it will be much easier to move forward. As Coleman told the Deseret News, "The trauma of a broken relationship is often a controlling force in a divorced person's life, interfering with his or her ability to form another intimate relationship."
So maybe your ex changed you for the better, or maybe for the worse… but either way they changed you and put you on the path to where you are today.
National Ex Spouse Day is about taking a moment -- not to celebrate a failed marriage, but to celebrate love, the letting go of anger and the children who were brought about from the love you once shared together.
We're not suggesting you send a card. But if you want to do something, Coleman suggested today is a good opportunity to return something to your ex that you kept out of spite.
Whatever you do, at least just take a moment to reflect -- and keep it positive.
What do you think? Can you find something positive about your ex?
If you like what you see on dailyhoroscope.com, please consider following us on Facebook and Twitter.