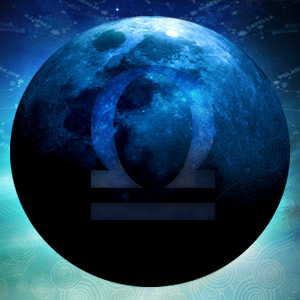 The New Moon in Libra on Monday, October 15 is made for initiating contacts and smoothing out the rough spots in relationships. It's important, however, to avoid going too far to please others.
Venus, Libra's gracious ruling planet, is in pragmatic Virgo, which usually indicates good discretion, but she forms an over-hyped square with optimistic Jupiter in Gemini that may try to make everyone happy.
Kindness to others is cool, but knowing where you stand assures that you don't give more than you should. See how the New Moon in Libra will affect your sign:
Aries (March 21 - April 19)
This lunation in your 7th House of Partners is excellent for attracting allies, reaching out to new people and making peace in your relationships. Meeting others halfway is an excellent way to earn trust and to gain support for projects you can't complete on your own. A fresh perspective on ways to get along with difficult individuals enriches your personal life and will also be beneficial to your career.
Taurus (April 20 - May 20)
The socially skillful Libra New Moon lands in your 6th House of Work and Habits, providing a fresh start in these key areas. Finding the right allies and making compromises on the job are keys to professional success. However, it's essential to recognize the difference between those with whom you simply need to get along and those individuals who can be effective and reliable partners.
Gemini (May 21 - June 20)
Your charm quotient goes up 200 percent with this alluring Libra New Moon in your 5th House of Romance. Whether you're trying to find the love of your life or to put more juice into an ongoing relationship, a little effort on your part with go a long way. Creativity and public presentations also get a boost from this artistic Sun-Moon conjunction, which inspires your imagination and puts you in a more pleasing light.
Cancer (June 21 - July 22)
Beautifying your domicile and bringing peace and harmony to your family are gifts from this gracious Libra New Moon. It lands in your 4th House of Roots, where it can give you a fresh perspective on personal history, allowing you to let go of painful parts of the past. Professional inspiration arises, especially when you let yourself dream and think about more creative ways to express your talents.
Leo (July 23 - Aug. 22)
This New Moon in lovely Libra occurs in your 3rd House of Learning and Communication. It's ideal for getting useful education, as well as for sharing your ideas in a convincing manner. Tuning in to your listeners is what will really empower your messages. The ability to find the right balance between expressing your thoughts and catering to others' interests will make you a compelling speaker.
Virgo (Aug. 23 - Sept. 22)
Money matters could get a boost with this Libra New Moon in your 2nd House of Income. Investing in your talents with high quality tools and training makes sense, especially if it builds self-confidence. Making peace with yourself by being more objective about your strengths and weaknesses is another way to increase your comfort level and make you a desirable colleague and partner.
Libra (Sept. 23 - Oct. 22)
This New Moon in your socially gifted sign can be like a personal makeover. It provides a fresh look at yourself with some clear ideas about ways to update your appearance. The drive to start projects, develop healthy habits and steer your personal life in a more fulfilling direction can also be strong. A key to enhancing relationships is to remember to always treat yourself as well as you treat others.
Scorpio (Oct. 23 - Nov. 21)
Some of your struggles could melt away with this peaceful Libra New Moon in your 12th House of Spirituality It's an opportunity to find inner balance by stepping back from the stresses of daily life to see yourself in a larger context. Creating a sanctuary for meditation and prayer or spending quiet time in nature help you let go of battles to connect yourself with healing forces that are always there.
Sagittarius (Nov. 22 - Dec. 21)
This sociable Libra New Moon arrives in your team-oriented 11th House, providing a fresh start within organizations and among friends. It can motivate you to work for a cause where you're connected with like-minded people. Compromises may need to be made to combine your talents with others, so giving some ground is a fair price to pay for the chance to be part of a meaningful community.
Capricorn (Dec. 22 - Jan. 19)
This New Moon in diplomatic Libra is in your 10th House of Career, where it should give a boost to your professional life. Sharing power and responsibility are the keys to making it happen. Reaching out to make connections should increase opportunities or raise your status in your current position. But this can also be a good time to seek new employment or even initiate a change of occupation.
Aquarius (Jan. 20 - Feb. 18)
Your mind is opening to beliefs and points of view that you were opposed to in the past. That's because this New Moon in reorienting Libra lands in your 9th House of Higher Truth. Interest in education, travel and publishing are also pushed by this Sun-Moon conjunction in this visionary part of your chart. Expanding your horizons is even more desirable when you have a partner to share the experience.
Pisces (Feb. 19 - March 20)
This partner-oriented Libra New Moon occurs in your 8th House of Deep Sharing. It can provide clearing thinking and the emotional control needed to discuss delicate issues with a loved one or close associate. It may be difficult to put feelings into words, especially when delicate matters are concerned, but expressing your desires is a key to creating satisfying personal and professional relationships.