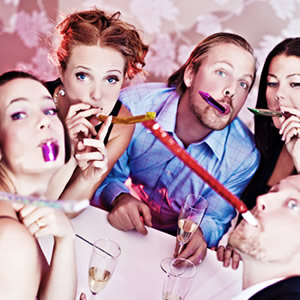 With all the intense energy in the air, you can expect this year's New Year's Eve festivities to include boisterous laughter, fun and surprises as we prepare to pop the cork on 2014.
Each sign will have its own way of expressing this joy for new experiences. Check out your festive tendencies to answer the big question: How will you be celebrating New Year's?
Aries (March 21 - April 19)
As the clock strikes midnight, you're most likely to be in front of a really big reflective surface (think disco ball!) surrounded by, oooh 2,012 or so of your close and personal friends.
Taurus (April 20 - May 20)
They say you shouldn't drink alone, but with the Moon in independent Aries and your 12th House of Reflection, one glass of bubbly while making a wish on to your hopes and dreams would be totally appropriate.
Gemini (May 21 - June 20)
Whether it's at a soup kitchen or a gala benefit, with the Moon in your 11th House of Community this New Year's Eve, you'll celebrate surrounded by people who look to you for the next, smart move.
Cancer (June 21 - July 22)
As the Moon parties through your 10th House of Career and Public Status, you may find yourself ringing in the New Year with co-workers, or giving a celebratory speech at the stroke of midnight.
Leo (July 23 - August 22)
Thanks to the Moon's presence in bold Aries and your 9th House of Faraway Places, you'll most certainly ring in 2012 in several different languages, from "salud" to "sköl", and probably in the arms of an exciting stranger with a thick accent.
Virgo (August 23 - September 22)
Intimacy is on the menu for you this New Year's Eve, Virgo, meaning you'll spend the evening either completely wrapped around the one you love, or at a party where you're sure to find someone who's willing to become the one you love.
Libra (September 23 - October 22)
With the Moon's emphasis on your 7th House of Partnerships, this New Year's Eve could find you at a couples' retreat or at a small gathering with your committed over. Or, if you're still looking, check out a singles' party filled with eager would-be lovers.
Scorpio (October 23 - November 21)
As the Moon lights up your 6th House of Habits and Self-Improvement, you're probably getting a jump start on those New Year's resolutions burning off calories on your newly-installed treadmill . . . or still savoring that last piece of cheesecake before the 2012 diet begins.
Sagittarius (November 22 - December 21)
Fun-loving Sagittarius, with the Moon in wild Aries and your 5th House of Play, you'll never find a party big enough to satisfy you, so you'll most likely end up throwing your own lavish, glitzy bash.
Capricorn (December 22 - January 19)
Where else could be better than celebrating New Year's Eve in your very own home? As the Moon energizes your 4th House of Home and Family, even if you do head out for the evening, make sure you at least have loved ones in tow.
Aquarius (January 20 - February 18)
The Aries Moon is ringing in 2012 in your 3rd House of Communication, calling on you to celebrate all day sending mass texts to all your friends, catching up over email and commenting on everyone's latest party pics on Facebook.
Pisces (February 19 - March 20)
You're going for quality, not quantity, this New Year's Eve, Pisces. A champagne-laced night of dinner and dancing is a perfect kick-off to your night of memories.
Get answers about your year ahead with a personal Big Picture Yearly Forecast report from Tarot.com.