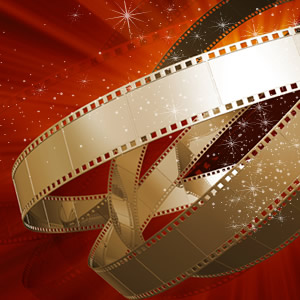 If you ever need an excuse to throw a party, the 86th Annual Academy Awards on Sunday, February 26, 2017, is it! Go ahead and get carried away by the glitz and glamour -- you're allowed to when the Oscars come to town. Pave the way for this festive evening by making some Feng Shui adjustments to your home. If you play your cards right, this bash will be the social event of the season!
Paint the party red
Feng Shui practitioners have great reverence for red, which is the color of ceremony (hence, the red carpet!). Set the right tone by wearing a flame-colored dress or scarlet tie. Red and gold decorations will also set the right tone for your party. Choose a cherry colored tablecloth and napkins, and place gilt-edged placecards around the table. Such a color scheme will cultivate a festive and feisty atmosphere that is just perfect for the Oscars.
Fire it up
The Fire element is associated with fame and celebrity. Integrate fire into your party with an elegant candelabra, long tapers and chunky pillars. If you like scented candles, choose a spicy scent like cinnamon, ginger or sandalwood.
Three is a magic number
The number three lends dynamism to any gathering. Offering three kinds of wine or a trio of desserts is a great way to ensure your Oscar party is a success.
Let the music play
The Academy Awards celebrates achievements in motion pictures. Do the same by playing a variety of upbeat music from your favorite films. Put together a playlist the week before your party. That way, you'll have a continual stream of catchy music throughout the evening.
Move the furniture
Three-sided seating arrangements promote sociability. Position chairs and sofas accordingly. Placing throw pillows so they look like diamonds instead of squares will also lend an element of excitement to your party.
Hot stuff
One of the best ways to promote a festive atmosphere is to fill your home with the scent of hot, delectable food. Even if you order pizza later in the evening, you can always set the stage by heating a pan of apple cider spiced with cloves on the stove.
Star power
Celestial bodies like Suns, comets and stars lend ceremonial energy to any occasion. You may want to incorporate these symbols into your decorating scheme. Suspend glittery stars from the ceiling ... if you have kids, enlist their help in cutting out the decorations. Their youthful energy will carry into the festivities.
Host a game
The Academy Awards ceremony involves lots of lag time -- keep things lively by hosting a trivia game. Hand out a list of questions to guests as they arrive. Whoever gets the most answers right wins a prize -- a copy of your favorite Film or a couple of tickets to the local movie theater.
Flower power
Bright, colorful flowers lend an air of exuberance to any party. A variety of pink, orange and red blossoms will be the perfect complement to your soiree. Put them everywhere: the hall, the gathering table, the bathroom ... people tend to loosen up more when they're surrounded by abundance.
Invite odd guests
"Odd" as in "not even!" Odd numbers lend an air of festivity, while even numbers promote peace and harmony. If you want your Oscar party to be lively and fun, invite five, fifteen or fifty-five people! This is a surefire way to keep the party going into the wee hours.
Get more personal insight with a Celtic Cross Tarot Reading from Tarot.com.