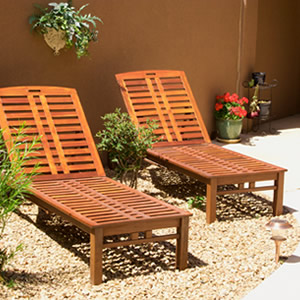 Feng Shui seeks to create spaces that mimic nature, so one of the easiest places to do this is the patio. Enjoying the great outdoors in a civilized setting can bring welcome balance to your life.
Instead of fluorescent lights, ringing telephones and recycled air, the patio affords open sky, birdsong and fresh breezes. Of course, you'll want to add some Feng Shui cures to ensure that this haven is as peaceful and empowering as possible. That's the beauty of this ancient practice -- it combines nature's wisdom with human ingenuity. Talk about an unbeatable combination!
Here are some easy ways to bring the art of Feng Shui to your patio:
Now you're cooking
If you have a grill, a great place for it is in the center portion of the far side of the patio, where it will generate warmth, energy and excitement. Expect your popularity to soar if you place a cooking element in this power spot. If it's not convenient to put your grill in this spot, you can choose the far right corner, where it could add fire to your love life. Putting a grill in the near left corner of the patio is favored, since it will create peace and serenity.
It's easy being green
Adding plant life to your patio will keep your finances healthy and promote family togetherness. Keep a tall plant in the far left corner of your patio, particularly if you want to increase your income. Keeping a group of healthy plants in the center portion of the left side of the patio will encourage strong family ties, either with your blood relations or your chosen community. Get rid of any dead or dying plants.
Take a seat
Comfortable chairs make all the difference between a popular and neglected patio. If you're on a tight budget, spend the majority of your money on quality seating. Cushioned chairs that can be adjusted are ideal. Stay away from metal models if your patio gets lots of sun, or you won't be likely to linger there. Cushions for seats should be mellow earth tones like olive, brick, yellow, brown or pumpkin, as these hues invite people to relax and linger.
Table for fun
When choosing a table for your patio, give careful consideration to its shape. A square table will promote a sense of close stability, but may not be the best choice for those who like to entertain different groups of people. A round table is great for fostering community, but don't expect lots of decisions to get made here. A rectangular table promotes lively conversation. But, you may want to stay away from this shape if your family includes someone with a strong personality who makes others uncomfortable.
Keep it moving
Nature is never stagnant. If your patio doesn't get a lot of use, it could be because stagnant energy has settled there. Change this by hanging a metal wind chime on the center right side of your patio, where it will generate lighthearted energy. Alternately, you can place a water fountain near the entrance of your patio, where it will help people to release their worries and use the patio as a place for rest and relaxation.
Round the corner
The patio is a place to relax. Therefore, you want to keep straight lines to a minimum there. Introduce curves with chairs that have rounded backs, mirrored gazing balls and hanging plants with cascading tendrils.
Step in time
Create a path with stepping stones. A path that heads north will lead to self-discovery and reveal career goals, while a walkway that heads east will promote optimism and boost energy. Create a path that faces south if you seek glamour and popularity. If you need more leisure time, make a passage that heads west. Curved paths are always preferable to straight ones, as they allow for flexibility and pleasant surprises.
Trip the light fantastic
If life has become a little dull and predictable, hang a string of lights around the perimeter of your patio. Chinese lanterns or tiki torches will create an air of festivity, while tiny fairy lights will lend an air of elegant sophistication. Lights that cast beams down toward the ground create an air of mystery, while wall sconces will lend an air of formality.
Keep it clean
Stow trash cans in wooden bins. Keep the bins in a place where they won't offend the eyes and ears. Make sure your patio is clean, weeded and clear of clutter. A little clutter is fine if you like a casual, disorderly patio where you can put your feet up, but throw away any broken furniture, dead leaves or mildewed cushions that are dragging its energy down.
Cut yourself some shade
Because the patio is outdoors, it should be as versatile as possible. Keep an umbrella out for days when the sun's rays are overpowering, and choose chairs that can be easily moved to accommodate people's need for light or shade. If your patio is big enough, you may want to create a place of quiet contemplation. Ideally, this would be in the near left corner, where a solitary chair or hammock would promote still, gentle peace.
Get tips personalized for YOU with your Personal Feng Shui Report from Tarot.com!