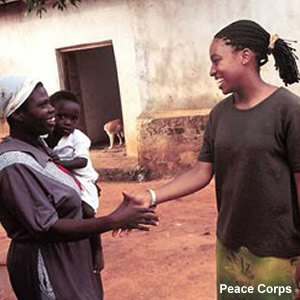 Happy Anniversary to the Peace Corps! The American volunteer organization was first established March 1, 1961, and it's now celebrating 50 successful years of contributing good Karma to the world.
March 1 marks the beginning of National Peace Corps Month, during which events will be held across the country to commemorate the five decades' volunteers have spent promoting peace and friendship around the world.
UCLA will hold events commemorating the Peace Corps' 50th Anniversary from March 2-5, including documentary film screenings and panel speakers, and President Barack Obama has released an official presidential proclamation praising the Peace Corps for giving over a half of a century of service to the cause of peace.
"Over the past five decades, Peace Corps Volunteers have served in nearly 140 countries, bringing a wealth of practical assistance to those working to build better lives for themselves and their communities," President Obama said in the proclamation.
Obama also reminds us of the continued importance of Peace Corps volunteerism, which betters the lives of the volunteers as much as those the organization helps.
"In our increasingly interconnected world, the mission of the Peace Corps is more relevant today than ever," Obama's proclamation states. "Returned volunteers, enriched by their experiences overseas, bring a deeper understanding of other cultures and traditions back to their home communities in the United States. The lasting accomplishments of the Peace Corps continue to strengthen partnerships with leaders and countries around the world."
We here at DH also applaud the Peace Corps. for working karmic wonders, encouraging progress, creating opportunity and fostering mutual respect and understanding throughout the world.
Are you a Peace Corps volunteer? Or are you considering volunteering? We'd love to hear about your experience -- please leave a comment and tell us about the good karmic work you've done and how it enriched your life!