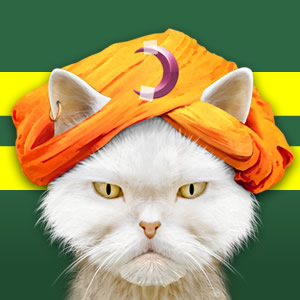 Are the psychics who favor the Oregon Ducks a bunch of quacks? No way! But more than a few of them are feline.
As college football fans prepare to watch tonight's BCS National Championship Game between Oregon and Auburn, some are not content to wait and see which team will take the title. But we've got good news for the impatient -- posses of pet psychics are putting their best paws forward to predict tonight's winner.
In Sherwood, Ore., a team of cats at the Cat Adoption Team have predicted the Oregon Ducks will win. (Hmmm, we're a little bit surprised the cats aren't rooting for the Tigers). And here at DH headquarters in Portland, Ore., our own Psychic Cat is also "pwedicting teh Duckz will win tonitez game cuz duckz r yummy an tigers r meen."
Watch video footage of the Cat Adoption team's pet psychics in action if you're curious about the cats' prediction process. It appears to be food motivated, but that doesn't mean it's not highly accurate.
A few human psychics are weighing in on tonight's BCS game, too, and they seem to agree with the felines for the most part (even if they aren't as cute when making their predictions). One Oregon psychic calling herself Kosmic Karen says she's getting an overwhelming feeling from the metaphysical world that Oregon will win.
Either way, we predict it's going to be a great game with plenty of Duck feathers and Tiger fur flying. Who do you think will win? Do you agree with the psychic cats?