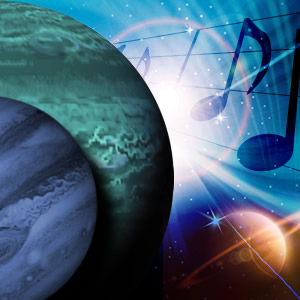 Get ready for a cosmic chorus! The planets have inspired two new ways to space out to your music, and they're both out-of-this-world fun.
First up, a new Planetary iPad app lets you interact with your music as though you were exploring the solar system. According to AppScout.com, the futuristic new music player app organizes your music like stars and planets.
All the artists in your music collection are displayed like stars, the albums are displayed as planets that orbit the stars, and individual tracks on each album are shown as moons around their planets. Cool, right?
The entire Planetary "sky" is full of stars corresponding to the artists in your music library, and you can keep adding new artist stars -- sort of like how astronomers keep discovering new stars in real life. It's free, too! Read more the Planetary iPad app and where to get it at AppScout.com.
Also singing our cosmic tune this week is "Universound," Italian composer Giorgio Costantini's new album of music inspired by the planets in our solar system.
Universounds opening track "Alba Mundi" is harmonized around notes that correspond to the orbital frequencies of the planets, transposed up 36 octaves.
Are you following us? Planets Mercury through Pluto each have their own note, and Costantini has captured that frequency and worked it into a truly far out cosmic composition. Universound is available at CDbaby.com, check it out!
If you like what you see on DailyHoroscope.com, please consider following us on Facebook and Twitter.