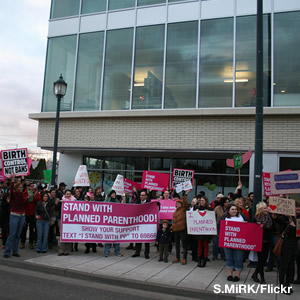 Once again, Planned Parenthood is in the news headlines, and people are staging rallies in both support and protest all over the country -- including right here in our DH hometown headquarters of Portland, Ore.
People are polarizing around the hot-button issue of whether or not Planned Parenthood should receive federal funding, prompted by the U.S. House of Representatives voting in favor of ending all federal funding for Planned Parenthood last week.
Some see this as a right-to-life issue, but to us that's not the central issue at all. Whether you're rallying with a sign that says "Pro Choice" or "Pro Life," the real issues we see emerging are a woman's basic right to affordable healthcare, and learning how to share our opinions with one another respectfully even when we have greatly differing beliefs.
The fact is only 3 percent of all Planned Parenthood health services are abortion services, but that small percentage is still enough to make many believe the organization should be stripped of federal funding.
On the other side of the argument, people are fighting to continue federal funding for the majority of services Planned Parenthood provides in family planning, cancer screenings, sex education tests and treatments for sexually transmitted infections, including HIV.
We realize this is a highly controversial and sensitive topic that brings up powerful emotions on both sides, and we're curious how you would react if you found out a close friend was on the opposite side of the issue. What is the right thing to do? Share your opinions and try to be respectful of your differences? Try to persuade your friends to think like you do? Or would you stop speaking altogether?
Tell us: What will you do or say to friends who fall on the opposite side of this debate?