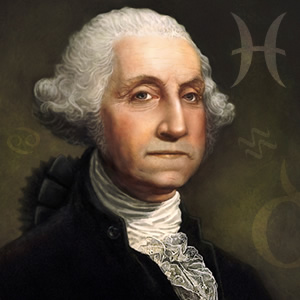 President's Day is upon us, so it's a great opportunity to take a look at the other presidents of our great nation -- Astrology-style!
Forty three men have held the presidential title since compassionate Piscean George Washington (left) first filled this prime position in 1789 (yes, we are currently on our 44th president.
Grover Cleveland is the only president to have been elected for two non-consecutive terms, so history counts this one man as two presidents -- both the 22nd and 24th). But while all the horoscope signs are represented among these 43 men, there are actually two signs that outweigh the others. Is it business-like Capricorn? Fair and balanced Libra? Bold and confident Aries? It's not! The horoscope signs most represented among all U.S. presidents are ... drumroll please ... Scorpio and Aquarius!
So what is it about Scorpio and Aquarius that make them candidates for such a prestigious and demanding position? Five U.S. presidents have been Scorpios, and five more Aquarians. Still, it's important to note that Taurus, Cancer, Leo, Libra, Capricorn and Pisces each have four presidents representing these signs, so it wasn't a total runaway by Scorpio and Aquarius (see the complete list below). Nonetheless, we have to ask, what do Scorpio and Aquarius represent that the others do not?
It's no surprise that the issue of honesty comes up frequently in politics. From unmet campaign promises to massive governmental secrets, truth and lies play a big role in U.S. politics -- and Scorprio is certainly the best at sidestepping the truth. But Scorpio is also deeply interested in what lies beneath the surface, helping these presidents look beyond what the rest of us see in order to find new and innovative ways of approaching problems. And let's not forget the intense passion that a Scorpio brings to the table -- without passion, there is no drive, and without drive, one would certainly not be able to sustain at least four years in one of the most demanding jobs imaginable.
Yet perhaps the most important trait a president must have, hands down, is an understanding of and willingness to work with and for the people he represents. Enter, Aquarius. Aquarius is widely known to be the most community-oriented of the horsocope signs, not to mention one of the most off-beat. And it's this off-beat nature that allows Aquarian presidents to go against long-standing practices and move the country in a new direction. In fact, birthday-boy Lincoln was an Aquarius, and we can thank this focus on humanity for his dedication to the end of slavery, which started with his Emancipation Proclaimation of 1863.
Certainly, every horoscope sign has traits that are positive and negative, traits that would be both excellent for and detrimental to the presidential office, but for their drive and community focus, we can't say we're surprised that Scorpio and Aquarius are strongly represented among the presidents of U.S. past.
Presidents by Horoscope Sign
Aries: John Tyler, Thomas Jefferson
Taurus: James Buchanan, Ulysses S. Grant, James Monroe, Harry S. Truman
Gemini: John F. Kennedy, George H. Bush
Cancer: Calvin Coolidge, John Quincy Adams, Gerald Ford, George W. Bush
Leo: Herbert Hoover, Benjamin Harrison, Bill Clinton, Barack Obama
Virgo: Lyndon B. Johnson, William H. Taft
Libra: Jimmy Carter, Rutherford B. Hayes, Chester Arthur, Dwight D. Eisenhower
Scorpio: Theodore Roosevelt, John Adams, James K. Polk, Warren G. Harding, James Garfield
Sagittarius: Franklin Pierce, Zachary Taylor, Martin Van Buren
Capricorn: Woodrow Wilson, Andrew Johnson, Millard Fillmore, Richard M. Nixon
Aquarius: William McKinley, Franklin D. Roosevelt, Ronald Reagan, William H. Harrison, Abraham Lincoln
Pisces: George Washington, Andrew Jackson, James Madison, Grover Cleveland
Dig into any President's birth chart (or your own) with an Essential Birth Chart Report from Tarot.com.