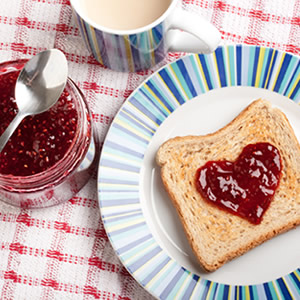 Ah, Valentine's Day -- either your favorite holiday of the year, or the bane of your existence. Some of us start planning their cards and flowers once the ball drops on New Year's Eve, others pick up a box of chocolates after work on February 14 and call it a day.
Whether or not you consider Valentine's Day nothing but a Hallmark Holiday, and regardless of your romantic status, it's nice to have a day set aside for all things love ... one that reminds us of those people in our lives that are most important and thanking them in our own special ways.
If find yourself empty-handed, broke, lazy -- or just not that into it -- here are some easy ways you can pony up for love.
Make breakfast in bed. It's cheap … and so sweet!
Just one red tulip will do... Elegant and romantic. Forget the dozen roses.
Buy or make a card. Any card. Write something in it from the heart, or find one that says it all for you. These are inexpensive, quick and sold just about everywhere.
Hit 'em with a candy bar. Instead of a big 'ol heart-shaped box with twenty chocolates that will go stale, pick up one gourmet chocolate bar you know he or she loves.
Make a mix! Okay, so the days of mix tapes are dead and gone, but the idea will never go out of style. Create a secret iPod playlist with the hits of your choosing, dedicated to your one and only.
Frame a picture. Find a picture of you and your loved one, or simply a meaningful photo that's been lying around frameless -- and match it with a nice frame. It's a special gift that could mean more than you think.
Say "I Love You!" Doesn't get much better than that.
Get personal love advice with a Big Picture Love Forecast from Tarot.com!