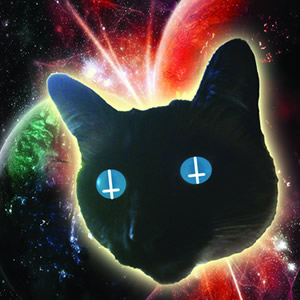 Don't be fooled by the name. There's nothing really all that terrifying about "Psychic Siamese Terror," unless you're frightened of meaningful insight and a sweet little kitty with big blue eyes who sometimes likes to give love bites.
Nothing to fear, Psychic Siamese Terror is a cool new Tarot card outfit operated by two creative women in Portland, Ore., and inspired by one fearsome feline who serves as the mystical muse for this fun business.
As champions of any good-Karma cause, we here at DH are excited to introduce you to our Portland neighbors and share what got them started in the divination biz.
Alana Jevert and Suzy Olsen began their Tarot-on-the-go business a few months ago after taking what they refer to as a "vision quest" trip to the Mojave Desert. The women bonded over their experience with Tarot cards, and now their shared vision is to inject the Tarot experience with some good humor to make it more fun and accessible for people.
To that end, the gals have adopted Alana's Siamese cat Lyla as their mascot, and they now offer Tarot readings in Portland area venues to provide "some much needed spirituality for the masses." Lyla the cat stays home, but Jevert and Olsen can be found giving readings at local events, parties, bars, shops or wherever the need for meaningful insight calls.
"We do take the Tarot readings seriously, but we also want it to be fun and easy for people," Olsen said. "The idea is that people don't necessarily have to seek us out or come visit us in a retail shop. We set up shop in a venue, most likely a bar, and the Tarot reading just becomes a fun conversation -- but still meaningful."

This cosmic reporter stopped by to see the Psychic Siamese Terror team in action at the Cruzroom bar in Northeast Portland Wednesday night, where the women set up a candlelit table in the midst of the bustling bar and gave patrons free readings throughout the night.
Diners put their names on a wait list and continued eating their dinners and enjoying their drinks until summoned for their readings, which took about 15 minutes each and served up a side dish of insight along with the food and drink.
In spite of the casual, noisy setting, most folks seemed to come away satisfied with their readings and a new outlook on their situation -- and this reporter can attest to the accuracy of her own Tarot reading, too. So, if you're going to explore life's mysteries and need advice about something, why not do it over a gourmet lemongrass chicken taco and a glass of wine, right?
"Our overall goal is for people to not be intimidated by getting a Tarot reading, but to see it as a casual and entertaining experience," Olsen said. "Most people I find come away from the experience feeling surprised and more empowered about their situation. And it just ends up being a fun evening."

Visit the Psychic Siamese Terror Facebook Page for more info. and upcoming events. And if you can't make it to Portland, no worries -- try a free Tarot card reading from our sister site Tarot.com.
If you like what you see on dailyhoroscope.com, please consider following us on Facebook and Twitter