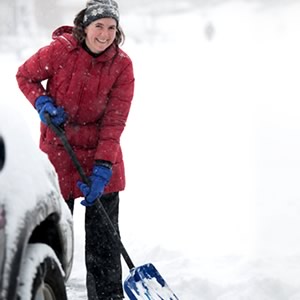 Winter storms keep a comin', and the latest weather forecasts expect more than a third of the U.S. population to be impacted by heavy snow, ice, wind and all manner of "potentially life-threatening" winter weather hazards in the coming week. That's the bad news.
The good news is we're starting to hear some truly inspirational stories from snowbound citizens and good samaritans helping each other out, warming our hearts with their tales of cold-weather kindness.
In fact, the mayor of Philadelphia, Penn. is publicly asking residents to "be kind" and help each another out, and all across the country people are doing just that.
As snowstorms and blizzard conditions spread from the Colorado Rockies all the way to the New England coast, we're hearing tales of citizens forming grass-roots movements to help each other weather the weather.
People are shoveling their neighbors' driveways and forming groups to work together to dig each other out. Builders with plows are donating their time to dig others' vehicles out of the snow; folks are checking in on their eldery neighbors and single parents to make sure they have heat, food, diapers or whatever they need.
Our favorite random act of kindness comes out of Knoxville, Md., where the Los Angeles Times reports a fella named Kevin Writt spent hours distributing 50 bottles of water and 40 packs of M&Ms to motorists stranded on a bridge over the Potomac River. Why did Writt say he decided to help out? "Karma."
As Philadelphia Mayor Michael Nutter also told the LA Times, "The main message of the day is be careful, be kind, look out for other people." We Daily Defenders here at DH headquarters in Portland, Ore. couldn't put it better ourselves.
With hazardous winter weather continuing in much of the country through the week, let us know if you have inspirational stories like this from your own community and what you're doing to help each other in the winter storms. Leave us a comment below!
If you like what you see on dailyhoroscope.com, please consider following us on Facebook and Twitter.