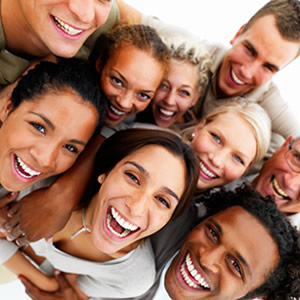 We are all set to celebrate the spirit of kindness toward strangers during the holidays, and we'd love to have you join us. Help ensure some good Karma by helping others, whether you spend five minutes or five hours doing so.
Here are 10 random acts of karmic kindess to help you get started:
10 Random Acts of Karmic Kindess
Smile! Smile at co-workers, fellow shoppers and strangers you pass on the street. It'll improve everyone's energy and attitude all around.
Buy the person in front of you a cup of coffee! In line at Starbucks? Just step up and say "that one's on me!"
Instead of fighting traffic, be the nice driver designated to letting others pass and merge with a friendly wave, even if it means you must wait.
Baby, it's cold outside. If you're taking 10 minutes to rake the leaves or sweep the snow from your front sidewalk, why not take 10 more to sweep your neighbor's?
Hold the door! Hold the elevator door, the grocery store door, the department store door ... you get the idea. Let others go first!
Shop selflessly. Buy a charitable gift along with your other items. Pick up a toy to donate to a children's charity, or a warm sweater to give to a women's shelter.
Save all your change in a special coin purse, and don't think twice about giving it all to others in need.
Give up that sweet parking spot right next to the front entrance of the shop or restaurant you're heading into. You can walk a few extra steps to make someone's day, can't you?
Standing in a long line at the grocery store with a cart full o' goodies, while the person behind you has one graperfruit? C'mon, let 'em go first.
Pay someone a compliment! You know how it makes your day when someone says you have nice eyes or they like your shoes? Make someone else feel like that.
Have you ever been on the receiving end of a random act of kindness from a stranger? If so, leave a comment and tell us about it. And let us know if you have ideas for other random acts of karmic kindness, too!
Get more insight with a Life Cycle Tarot Reading from Tarot.com!