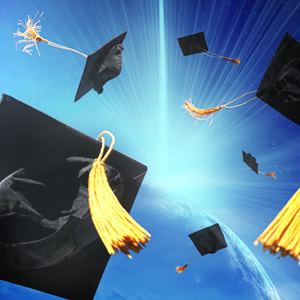 Have you ever thought about a career in Astrology? Wouldn't it be amazing to turn your passion for planets into a profession? Well then, we've got good news for all you budding professional astrologers:
Today the RASA School of Astrology announced it will award the first ever Astrology scholarships to students around the world.
The Robin Armstrong School of Astrology, an online school based in Toronto, Canada, offers a full four-year Astrology course with 350 hours of class instruction and curriculum certified by Professional Astrologers Inc. RASA will award two scholarships per country worldwide, which represents a total of $392,000 in grants spread across 196 countries. The awards cover the full cost of the four-year curriculum, and it's the first global astrology scholarship program in history.
"This represents a significant upgrading of the status of astrology in today's world," said the school's Lisa Swarbrick in a news release. "The program will make the serious study of astrology available around the world and assist in developing meaningful careers in the field of astrology. The scholarship program reaches beyond inequalities of national currencies, opening the door to students from poorer countries."
Most universities do not offer Astrology courses, so access to quality Astrology programs is typically expensive -- and it takes years of study to become a Master Astrologer.
For example, our own DH Master Astrologers Rick Levine and Jeff Jawer have each been studying, teaching and publishing in the field of Astrology for more than 30 years.
Levine also has played a big role in improving formal Astrology education, founding The Center for Astrological Research and Education, and as a founding trustee of the Kepler College for Astrological Arts and Sciences near Seattle.
The new RASA Astrology Scholarship Program is a great way to gain affordable access to this rapidly evolving field, so you'd best get started if you hope to be the next Rick & Jeff -- you've got some catching up to do!
You can view the curriculum and learn more about the RASA School of Astrology Scholarship Program here.
So what do you think? Would you apply for an Astrology scholarship? Leave us a comment below!
If you like what you see on dailyhoroscope.com, please consider following us on Facebook and Twitter.