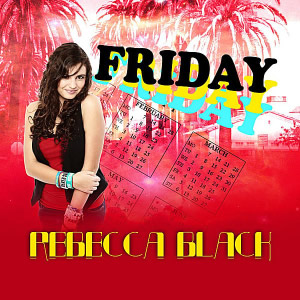 If you've been anywhere near the Internet lately, chances are you've heard of Rebecca Black ... and are all too familiar with a little diddy called 'Friday.' The song that is so bad it's addictive has brought sudden fame to the 13-year-old Californian, singer of the "worst song ever..."
...Yet believe it or not, 'Friday' has become a viral smash over the past week, pushing Black to the top of the iTunes chart, racking up millions of YouTube plays and causing sheer online hysteria. In a prime example of the power of the online world, people have become entranced in the mindless music video, the superficial lyrics and innocent Black herself, just a girl with a dream and a mother willing to spend $2000 on a packaged pop song.
Like it or not, "Partyin' partyin' ... Partyin' partyin ... Fun, fun, fun, fun" is being sung across the world. Some reactions, however, are not so light-hearted; the negative feedback has gotten so bad that she's been receiving death threats via Twitter, such as "I hope you cut yourself and die."
Is the song 'Friday' just another example of cosmic clutter? Well, that depends on what you consider "good" music, and the fact that this pre-packaged pop singer is creating more buzz than, say, the unrest in Libya, well -- that says something. What's truly important? Certainly not a song that lists out the weekdays. At the same time, it's another example of parents needing to monitor their kids. It is completely unacceptable to pose death threats to an innocent girl singing an innocent song. In this case, take it from Daily Defender Rule #5: If you can't post something nice, don't post anything at all -- besides, who doesn't like a little weekend fun.
What do YOU think of 'Friday' and does it warrant such a horrible backlash?