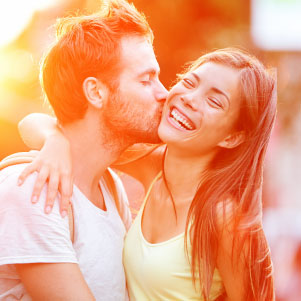 Do you believe in karma? Here on DailyHoroscope.com, karma is a major topic! Here guest writer Sujeiry Gonzalez, talks about karma in love relationships.
-- Editor's Note
This article provided to Tarot.com by the experts in all things parenting, Babble.com and written by Sujeiry Gonzalez -- mother, author and on-air talent.
I sat on my love seat, watching a marathon of Sex and the City when the following scene comes on. Carrie is sitting with the girls eating lunch when in comes Natasha, Big's wife. If you are not familiar with the show, Big and Carrie once dated, but then he married Natasha, and Carrie becomes Big's mistress. It's a lot more complicated than that, so I recommend you get to watching!
Back to the lunch table. Natasha walks in and sees Carrie. She turns on her heel but not before giving Carrie a dirty look. Fast-forward a few minutes and Carrie is walking down the streets of Manhattan in her Manolo Blahniks and gets mugged. Or, as she yells mid-block, "Somebody stop him! He took my strappy sandals!"
The episode continues and asks this very question: "Will treating someone badly in one relationship ensure that you'll be treated badly in the next?" If you believe in relationship karma, you will.
This got me thinking about my relationship karma. I have been cheated on and have been someone's "other woman" -- once without knowing my then-boyfriend had a girlfriend, and another time when I was well aware of the situation. What came first? When did my relationship karma begin to knock me down, like it knocked Carrie down a half flight of stairs? If I really think back, I was cheated on after I kissed a man in college who had a girlfriend. So, yes, I got what I gave.
Other women's thoughts
I asked other women what they think of relationship karma. Liz doesn't believe in it at all. "I've been cheated on," she admits. The guy ended up marrying the next girl and being super sweet to her. She's a really good person. I, on the other hand, am still single."
Do other women feel the same? Relationship karma is just hogwash? Angy also doesn't believe in it. "Everyone goes into a relationship with their own agenda," she begins. "When you're not on the same page, things go wrong. I believe in being the best you and if it didn't work out, it wasn't meant to be."
Then there's belief that it's all about timing. We should be who we are and eventually our good will pay off. As Clarissa says, "I think that if we are hopeful, we get what we give in return. Why? Because when we are giving and giving and giving ... we learn, and learn, and get hard," she continues. "Finally we meet a man that will return it, and we learn to be peaceful."
So maybe it comes down to our state of mind. Maybe if we feel like terrible people because of our actions, like Carrie does in this episode, relationship karma comes to bite us in the butt. Only time will tell.
More from Babble.com: