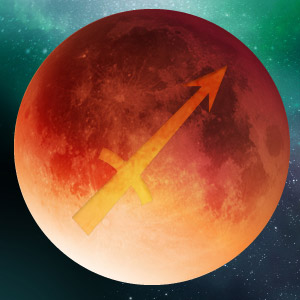 The Full Moon in Sagittarius on June 15 is a Total Eclipse of the Moon that increases the likelihood of dramatic changes during the next two weeks. It signals a need to let go of the past, especially of old beliefs and expectations. Truths that we held dear may begin to crumble or fade as we recognize that a single response or point of view does not answer every question. Learn more about the energy this eclipse will bring to your life by looking up your Sun and Rising signs below.
Aries (March 21 - April 19)
Travel plans and educational expectations may be altered by this Total Eclipse of the Moon in your 9th House of Voyages and Learning. Opinions that you held dear may not prove valid in light of new evidence or a shifting perspective. Don't oversell yourself or others on concepts that may be outdated.
Taurus (April 20 - May 20)
Your expectations in close relationships may be altered by this Full Moon. It's a Lunar Eclipse in your 8th House of Deep Sharing, which could require significant rethinking of emotional or financial partnerships. Don't be afraid to radically alter a plan, even if it means walking away from a significant investment.
Gemini (May 21 - June 20)
Relationships may be rattled by this Full Moon Lunar Eclipse in your 7th House of Partners. If you've been on the fence about someone, this is a time to consider making a decision. Mistakes are possible if you take bold action, but at least you will know where you stand in an important personal or professional alliance.
Cancer (June 21 - July 22)
Health and work issues are highlighted by this Full Moon Lunar Eclipse in your 6th House of Daily Life. It signals a need to put the past behind you, even if that means that you feel like you're compromising your principles. Adapting to current circumstances gives you more time to make a responsible long-term decision.
Leo (July 23 - Aug. 22)
Games of both childlike and adult nature could get you in trouble with this Full Moon eclipse in your 5th House of Romance and Play. Taming extreme expression of your emotions will give you a chance to reflect on your actions, which is wiser than letting your impulses get the best of you now.
Virgo (Aug. 23 - Sept. 22)
Family secrets may be revealed with this Full Moon eclipse in your 4th House of Family. While it's important to be truthful, how and when you share information can make the difference between opening hearts and opening wounds. A bit of tenderness will get the message across in a more helpful manner.