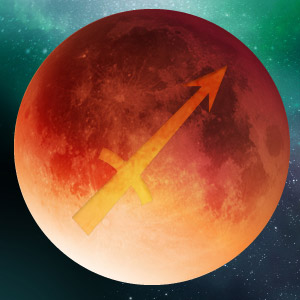 Libra (Sept. 23 - Oct. 22)
Speaking from your heart is risky with this Full Moon Lunar Eclipse in your 3rd House of Communication. Your words can have a greater impact than usual, so measure them carefully. Big ideas from others are also likely to be overblown, so don't make a commitment without doing some investigating first.
Scorpio (Oct. 23 - Nov. 21)
Money matters can take an unexpected turn with this Full Moon eclipse in your 2nd House of Income. Resources that were undervalued may prove to be worth more than expected. Yet over-estimation in other areas or pushing your spending too high can leave you out on a financial limb.
Sagittarius (Nov. 22 - Dec. 21)
Rethinking your appearance and approach to others makes sense with this Full Moon eclipse in your sign. Be kind to yourself as you make some alterations that will regain self-esteem and put you into better physical shape. A slow and gentle approach will produce better results than driving yourself too hard.
Capricorn (Dec. 22 - Jan. 19)
This Full Moon eclipse falls in your 12th House of Divinity, which can awaken spiritual awareness. However, if you've been following false dreams, this event can awaken you from your slumber. But clearing away old illusions, painful as that can be, makes space to welcome in more appropriate forms of inspiration.
Aquarius (Jan. 20 - Feb. 18)
Friends are very important to you, which makes this Full Moon Lunar Eclipse in your 11th House of Groups especially important. Letting go of an old pal or cutting ties with an organization are possibilities. Regardless of the promises you've made, being true to your own feelings takes priority now.
Pisces (Feb. 19 - March 20)
This Full Moon eclipse falls in your 10th House of Career and Public Responsibilities, challenging you to consider making changes in these areas. If you've put yourself out on a limb, do your best to back up to reduce the high expectations that have been set. Playing it safe professionally is a wise way to go now.