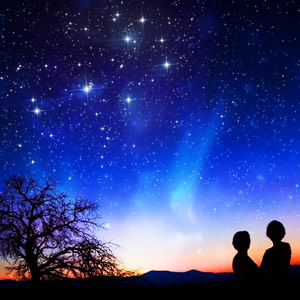 Is your zodiac sign wrong? That's the hot topic in mainstream media, which is suggesting that the Moon's gravitational pull may have shifted the zodiac by a whole month. Don't panic. Our expert astrologers are stepping in to set the cosmic story straight.
It wasn't long ago that news of Pluto's planetary status being bumped to "dwarf" was all over the headlines. And it seems that every six months or so scientists unveil new planets and celestial bodies in our galaxy.
It's fine and dandy to keep tabs on the amazing discoveries in our solar system, and we're always glad when Astrology hits the national news. But when that news is wrong ... well, we're here to remove the cosmic clutter.
One such bit of cosmic clutter is a FOX News story by Jeremy A. Kaplan ("Age of Aquarius Actually Age of Capricorn, Thanks to Rotation of the Earth"), in which Kaplan refers to findings from the Minnesota Planetarium Society that suggest there's been a "one-month bump in the alignment of the stars" and that Astrology is "all wrong."
This and other news stories as heard on TV, radio and print all seem to suggest a state of astrological emergency -- YOUR SUN SIGN MAY BE A WHOLE MONTH OFF! Do not panic. That's FALSE.
Unlike the scientists who did not check their facts, we went straight to astrology expert Jeff Jawer to clean up this confusion and explain what really is going on.
"There is no truth in this," Jawer said. "Western astrologers use the Tropical zodiac, which is based on the seasons, not the signs. Anyone who seriously researches the subject would know that."
Jawer shares these three simple facts to help clear up the astrological matter (pardon the pun):
Astrology is Earth-centric. Not star- or Moon-centric. If the Moon's relative position to the stars changes, that doesn't mean the zodiac changes.
Western astrologers have used a Tropical or season-based zodiac for about 2,500 years. That is why time and location of birth are so important.
The signs of the zodiac, while represented in constellations, are not derived or aligned exclusively with constellations (although they did so coincidentally around 2000 years ago.)
The good news? This lunar shift isn't news. Western Astrology as we know it remains intact and you will not be faced with a horoscope sign identity crisis anytime soon. Learn why all the media hype around this 13th sign is wrong.
Leave us a comment and let us know what you think about this cosmic controversy!
If you like what you see on dailyhoroscope.com, please consider following us on Facebook and Twitter. We need your help to spread the word and fill the world with good Karma!