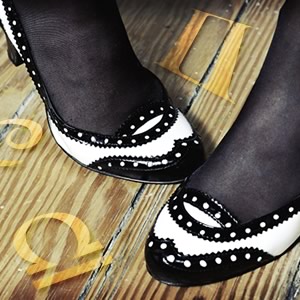 When it comes to shoes, you need to go a little crazy now and then. Wearing something sexy and fun on your feet gives you a lift, often literally. Beyond the basics -- cross-trainers, flip-flops, loafers and office pumps -- lies the seductive realm of stiletto-heeled sandals, strappy platforms, pointy-toed mules and jeweled ballerina flats. But the sexy stilettos that make a club-hopping Leo swoon could be sheer misery for a comfort-loving Cancer. We're offering suggestions to satisfy your shoe fix.
Aries (March 21 to April 19)
If you can't run to the corner store or dance all night in them, they probably aren't for you. For sex appeal in flats, try a gold metallic toe-ring sandal, paired with shorts or a mini skirt. Or, to keep your youthful spirit alive, patent leather Mary Janes or slides with a pleated skirt or Capris. Colorful slip-on sneakers or lace-up espadrilles with three-inch wedge heels will really make you feel like kickin' it.
Taurus (April 20 to May 20)
You look at shoes with a practical eye. Are they well made? Versatile? Invest in something beautiful that does double duty, like stylish, thinner-heeled mules that look equally good with long trousers and shorter skirts -- if you have the legs for it. Or, an elegant black suede shoe with tapered toe and stacked heel that can go from work to evening. Sling-back platforms with chunky hardware details would also suit you well.
Gemini (May 21 to June 20)
You'll opt for trendy over practical any day. The latest four-inch platform sandals with loads of skimpy straps across the foot and ankle, which work with everything from skirts to jeans, would tickle your fancy. So would metallic mules with dainty kitten heels or ballerina flats with embellished satin designs -- which look terrific with cropped pants. Madras plaid, wedge-heeled espadrilles are also a good option.
Cancer (June 21 to July 22)
Your changeable lunar nature loves the latest trends, but you'll also wear your old favorites until they fall apart. So, invest in classics you'll wear forever -- like a low-heeled, pointy-toed, lace-up bootie, or a strappy black sandal with medium-high heel and padded soles to keep you comfortable. Then, you can spice things up with an inexpensive, trendy style like foam-soled platforms with rhinestone-studded straps.
Leo (July 23 to Aug. 22)
You like to show off a bit. How about some turquoise mules with four-inch heels and gemstone embellishments to wear with your sexiest jeans? Or, a hot pair of Carmen Miranda-inspired red suede platform sandals with peep-toes and ankle straps, just made to accompany your flouncy, tiered skirt? Metallic silver or bronze leather espadrilles with three-inch rope heels would also complement your elegant style.
Virgo (Aug. 23 to Sept. 22)
You don't like to get too fussy, since you're usually takin' care of business. But sliding on a pair of comfortable yet fashionable shoes such as mules, clogs or Mary Janes will make you feel stylish, and therefore ready for whatever the day may bring. A sexy pair of kitten-heeled thongs ornamented with wood designs or sling-back, pointy-toed patent leather flats will add a sophisticated touch to jeans, Capri pants or skirts.
Libra (Sept. 23 to Oct. 22)
Your shoes tend to be dainty, just like you are. No heavy platforms or clogs for you. Instead, you'd prefer a pair of slender mules with thin heels, or floral-print, lace-up, three-inch espadrille wedges -- both of which look great with skirts as well as pants. Evening is when you shine, so invest in a pair of sexy T-strap sandals, perhaps with jewels dangling from the strap. Or, try pale metallic, pointy-toed, high-heeled pumps.
Scorpio (Oct. 23 to Nov. 21)
You're sexy, but in a subtle way. You'd look great in trousers, wearing elegant, stacked heel, suede boots in a dark, rich shade like burgundy, plum or chocolate. Or, try a similar look in a suede slip-on shoe -- perhaps with hardware ornamentation. For more exotic occasions, a flat, metallic, toe-ring sandal or bronze slides would complement your Middle Eastern-style silk pants outfit or a long, breezy skirt with metallic threading.
Sagittarius (Nov. 22 to Dec. 21)
Because you're always on the go, you want comfy footwear that holds up well. The latest snazzy sneakers are right up your alley -- whether with straps that criss-cross the foot, or playful designs on satiny fabric. An all-purpose pair of stylish mules could become your favorite shoes. But if you have large legs or thick ankles, opt for a pair with a chunkier heel and rounder toe, especially when wearing a dress or skirt.
Capricorn (Dec. 22 to Jan. 19)
The term "casual elegance" must have been coined for you. You like timeless shoes with subtle, stylish touches -- like a pair of good black leather boots with a slightly squared toe and sturdy heel. Or, try a classy pair of slip-on, suede and leather sneakers with criss-cross strap. Black evening sandals with thin straps and padded soles for comfort or tan wedge sandals with carved designs on the heels would suit you, too.
Aquarius (Jan. 20 to Feb. 18)
You're experimental, and your horoscope sign rules the ankles. So, the coolest retro, 1940s-style ankle-strap wedges and platforms are made for you. For extra dazzle, try some with crystal or rhinestone embellishments -- and perhaps a toe ring. You might also enjoy some slip-on sneakers featuring colorful peace signs or other fun designs. And, a pair of patent leather, pointy-toed flats would look great with leggings and a short skirt.
Pisces (Feb. 19 to March 20)
You're the Cinderella of footwear, forever searching for the dreamiest glass slipper. Therefore, you'd love the latest jeweled or rhinestone-studded ballerina flats, paired with a long, floaty skirt or cropped pant. Or, a pair of shiny silver, stiletto-heeled evening sandals in which to dance the night away. T-strap sandals with jewels dangling from the strap or pointy-toed mules with kitten heels would also delight you.