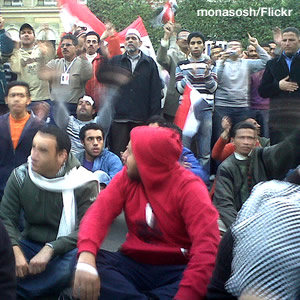 Update: Despite much urging from the press, Facebook has declined to discuss Facebook's role in the recent social media fed revolution in Egypt and Tunisia. They addressed the matter in a round-about way via a short statement.
Facebook spokesman Elliot Schrage said: "We've witnessed brave people of all ages coming together to effect a profound change in their country. Certainly, technology was a vital tool in their efforts but we believe their bravery and determination mattered most."
In other words, Facebook doesn't want to take any of the credit (or blame?). The New York Times did report that Facebook might start cracking down on violation of its policy against using pseudonyms for accounts, particularly those used to create unrest and upheaval.
For weeks we've kept a close eye on the situation in Egypt -- but not exactly for the reasons you might think. Yes, we watched intently as tens of thousands of discontented Egyptians took to the streets of Cairo to demand the exit of 30-year ruler President Hosni Mubarak.
But what we've really been watching is the social media revolution that brought about this historic event.
The Egyptian people got their wish today when Mubarak finally stepped down, which is a good karma move in many eyes -- and which would not have been possible without social media to encourage and organize the people to join together and fight for democracy.
As Daily Defenders, we have our own fight. We fight against social media abuse, such as using Facebook and Twitter to Tweet what you eat, spread negativity or contribute nothing but cosmic clutter. But this is a powerful example of how social media can be used to create real, positive change. Without Egypt's mass movement by the people on the Internet, would Mubarak have stepped down? We doubt it.
Given the power of today's communications, Egyptian voters were able to voice their discontent and desire for change so far and wide that they have succeeded in taking back the country, as they could not have done at any other point in history.
It's not all rosy, of course. We recognize the violence and economic hardships Egypt suffers through the upheaval. But isn't it inspiring to see how social media can contribute to the overall world good?
It's a brand new day for the next generation of Egyptians, who will log on to the Internet, voice their political views, text their opinions and enjoy free speech in a modern world democracy.
Are you inspired by this social media success? Leave us a comment and let us know what you think!