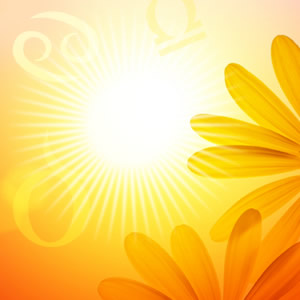 March 20 marks the Spring Equinox and the beginning of a new astrological cycle. We're off to a strong start with Uranus, Jupiter and the Sun all in fiery go-getter Aries, and we can expect to see some dramatic changes ahead. Look to your horoscope sign for more clues about what lies ahead for Spring 2011:
Aries (March 21 - April 19)
Spring is your season, which is bound to give you a boost. But this year it's especially energizing with wild and crazy Uranus is in your sign where it is joined by the Sun on March 21 to shock you into making radical changes. It's a time to experiment and break the rules, liberating you to rediscover the excitement of freedom and discovery that you crave. You probably won't show your hand until your passionate ruling planet Mars enters Aries on April 1 and you're ready to make your move.
Taurus (April 20 - May 20)
The equinox Sun falls in your 12th House of Behind-the-Scenes Activities where it feels like a hand pushing in the small of your back. It's your instinct to resist pressure and hold your ground at any cost. Yet, if the source of this force is someone you trust, think of this as gentle persuasion that's just meant to get you rolling before the Sun enters your sign on April 20 and you'll be ready to take the initiative to launch new projects, tone up your body and take on challenges of your own choosing.
Gemini (May 21 - June 20)
The rising force of spring's energy could get you racing ahead in the wrong direction. Your brainy ruling planet Mercury is slowing down in March prior to turning retrograde on the 30th. This starts a 3-week period when messages are likely to be muddled and errors on minor details can derail major plans. Thinking quickly is unavoidable but slowing down before you speak is a key to avoid making commitments you can't keep or stirring up an emotional response that could burn you.
Cancer (June 21 - July 22)
Spring is a time to look forward but your sentimental sign is often more interested in looking back. It's important not to hold on to the past so you can take on new challenges, especially professionally. The Aries equinox Sun falls in your 10th House of Career and this part of your chart is getting a major push when aggressive Mars enters it on April 1. You can either struggle against the tides of change while attempting to stay where you are or take advantage of them by taking chances in pushing ahead professionally.
Leo (July 23 - Aug. 22)
Spring starts with the adventurous Aries Sun in your 9th House of Travel and Education, stirring up desires to broaden your horizons geographic and cultural horizons. Unconventional Uranus' conjunction with the Sun on March 21 can spark wild ideas about visiting unusual places you've never been before or provoking interest in learning a new and different subject. Find a purpose for your passion because you could be lured battles over petty issues if you don't have a cause where you can fight for your beliefs.
Virgo (Aug. 23 - Sept. 22)
Relationships may start heating up after the equinox as the Sun and electric Uranus in fiery Aries heat up your 8th House of Intimacy. You may feel rushed by an impatient individual or burdened with fast-moving crises. Learning to trust your intuition could make the difference between trying to hold together situations that are flying apart and being quick and creative enough to come up with surprising solutions. Don't worry about doing things perfectly when speed is more important than getting everything exactly right.