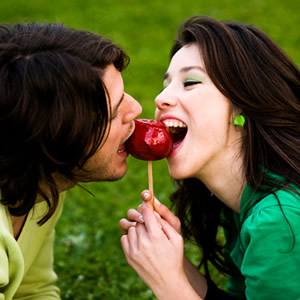 Spring can be the best time of year to fall in love or to rekindle an existing relationship. Often, romance happens quickly during the excitement of this season of rebirth. However, this year the speed of change and intensity of relationship dynamics are off the map. Though you may feel exhilarated, it's still wise to take a few deep breaths and consider what's going on before you find yourself in over your head. On the other hand, losing yourself in love may be the best possible heart medicine for these crazy times. Ultimately, balancing romantic fantasy with practical reality is your smartest course of action now.
Be flexible
It won't take long to feel the buzz of cosmic energy, because the March 20 Spring Equinox -- the day the Sun enters impulsive Aries -- is followed on March 21 by the Sun's conjunction with shocking Uranus. You are subject to sudden changes of feelings, an unexpected attraction or someone else's unconventional behavior around this time. Whatever you think is happening now will likely change quickly over the days ahead.
It's difficult to make a commitment now as stable Saturn forms an anxious sesquisquare with confusing Neptune on March 24. And illusions get mixed up with reality as Venus, the planet of love, joins nebulous Neptune on March 26. Venus then enters sensitive Pisces on March 27 to further dissolve boundaries between you and those you love. However, you may fearfully recoil from a major heart opening and set new boundaries when expansive Jupiter opposes austere Saturn on March 28.
No matter what your heart is telling you now, your head has a different idea when Mercury turns retrograde on March 30. The messenger planet's backward dance in assertive Aries lasts until April 23, making this a time to revisit recent relationship decisions and reconsider how your plans fit into those of your friends, lover or partner.
The Full Moon in social Libra on April 17 can be a significant turning point in a developing romance. Don't be too sure that you have all the answers, since your flexibility can be an important key to your happiness now. And it may finally be party time when Venus enters impetuous Aries on April 21 and joins wild Uranus on April 22. Still, you'll need to deal with the consequences of your actions from April 27 - 30 when Venus forms hard aspects with passionate Pluto and judgmental Saturn.
Settle down and enjoy while you can
One of the sweetest aspects for love occurs on May 11 when sweet Venus joins confident Jupiter. Then, on May 15, Venus enters sensual Taurus, enabling you slow down and smell the flowers. If you have been kind and caring to you partner, this is a time to reap the benefits of your loving relationship. Feelings then intensify from May 21 - 23 as Venus hooks up with potent Pluto and feisty Mars. Use this time to creatively court the person you love.
Although the curious Gemini New Moon on June 1 normally distracts our attention from our commitments, this New Moon is harmoniously trine stabilizing Saturn, enabling you to have fun even when you must be serious. This balance can bring a relationship into new ground without stirring up too much tension or fear.
Jumping Jack Flash
It becomes more difficult to follow through on your previous promises when loving Venus enters jittery Gemini on June 9. However, your cleverness and charm can get you through a tricky situation if you're not too flippant. It's not easy to predict the reaction to your behavior now because Venus squares dreamy Neptune on June 10. Others may misinterpret your intentions, so try to explain yourself clearly to avoid a lover's quarrel.
Spring began with intense change and ends similarly. The Capricorn Full Moon Lunar Eclipse on June 15 stirs up feelings that you thought were in the past. The intensity of emotions now must be managed with care or you could inadvertently hurt someone you love. However, the magic of love can be sustained if you remember to be kind.
Finally, make a new commitment or restate an old one around June 18 when romantic Venus trines steady Saturn. Although these times of change will continue to place pressure on your relationships, the stability you now gain can stick with you in the weeks ahead.