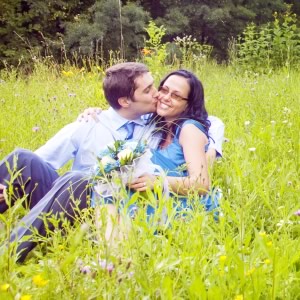 Spring starts in a romantic mood as amorous Venus joins magical Neptune and then enters spiritual Pisces on March 26. The following four weeks are filled with imagination and fantasies that inspire love. Tender feelings make us more vulnerable but also open hearts.
Make sure to set aside practical matters and let feelings flow freely to tap into the blissful mood symbolized by this transit. These moments may be fleeting but can lift spirits so high that they will never be forgotten.
Aries (March 21 - April 19)
Waves of planetary passion head your way to push your romantic life into a higher gear this spring. The action starts with the expressive Sun's entry into Aries on March 20. This increases creativity and self-confidence but the heat rises much higher when passionate Mars enters your sign on April 1. You will be charged up and ready to go anywhere at any time as your itch for action grows. Balance comes on April 20 when loving Venus enters Aries, providing more polish and charm to go along with your adventurous attitude.
Taurus (April 20 - May 20)
It may take some time to swing into full social gear this spring. First, there's the Sun's shift into your sensual sign on April 20 that's bound to raise your self-esteem and enable you to be bolder in your relationship life. Then, on May 15, alluring Venus, your attractive ruling planet, enters Taurus to make you feel more desirable. This transit is ideal for improving your image and your attitude. You're likely to be more playful and fun to be around, which is bound to make your more interesting to your current partner or a potential new one.
Gemini (May 21 - June 20)
Thinking twice, or maybe even three times, before talking is very important this spring. Your communicative ruling planet Mercury turns retrograde in impulsive Aries on March 30 and will stay in reverse gear until April 23. A greater tendency to mix up messages and misunderstand others can bring chaos to relationships unless you slow down to double check statements and perceptions during this period. Reconnecting with an old lover or friend is more likely now but even then an extra dose of caution is recommended.
Cancer (June 21 - July 22)
You may find yourself too busy with obligations starting March 20 to fully enjoy your private life. Responsibilities at home and work may not allow you the leisure time you need to relax work on relationships. You get some help on April 20 when the Sun shifts into your 11th House of Groups, offering more support from friends and colleagues. Interest in a common cause can connect you with someone new or give more meaning to a current union then. Love may be private but public activities and well meaning pals can become your keys to happiness.
Leo (July 23 - Aug. 22)
The Sun's shift into adventurous Aries on March 20, the vernal equinox, occurs in your 9th House of Travel and Higher Education. Getting out of town is one good way to add more spice to your relationship life. If you can't take a trip, connecting with someone in a faraway place or exploring foreign culture in your own hometown can spark romance. Meeting an enthusiastic person who opens your mind to fresh ideas is very exciting. Of course, it's even better if you're the pioneer or teacher leading someone else into fresh intellectual territory.
Virgo (Aug. 23 - Sept. 22)
Alluring Venus is pulling in potential partners, or making you more desirable to your current mate, during its transit of your 7th House of Partners that lasts until April 20. This is an ideal period to let fantasies lead you, even if your rational mind resists. The next stop for the planet of love is your 8th House of Intimacy where you take relationships to the next level during the following four weeks. If you're frustrated with being single or bored with your present situation, it's better to initiate change than letting someone else take the lead.