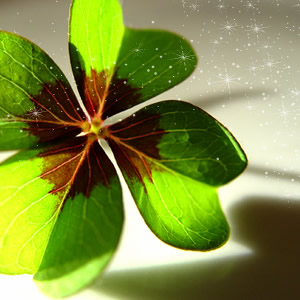 The air will be electric with excitement this St. Patrick's Day, as Uranus shifts from low-key Pisces to energetic Aries. A whole host of surprises awaits every member of the Celtic zodiac. Be ready to try something new around this holiday. Big risks pay off handsomely, especially with the luck of the Irish behind you. So step out of your comfort zone and claim the good fortune that is rightfully yours.
Birch (Dec. 24 - Jan. 20)
Big changes can occur on the home front around St. Patrick's Day, which may be both exciting and nerve-wracking. Possibilities include buying a bigger place, building an extension onto your existing home or adding a member to your household. You may have to make some critical adjustments, but you'll be pleased with the results. Stop clinging to the past; even a traditionalist like you needs to mix things up. Learning to operate high-tech gadgets and tools can increase your stature at home.
Rowan (Jan. 21 - Feb. 17)
An exciting learning opportunity looms ahead. Taking a class in computer programming, fiction writing or graphic design can be very rewarding. It may be time to find a new way to communicate with the world. Launching a blog will likely be richly satisfying for a visionary type like you; it's fun sharing your opinions with the world. Resist the urge to break off relations with a sibling or neighbor who rubs you the wrong way -- this is probably just a temporary glitch in your relationship.
Ash (Feb. 18 - March 17)
If you do what you love, the money should follow. You have a remarkable opportunity to make a living from your creative talent. At times, you may have to scrape to make ends meet. Still, you'd rather struggle while having fun than resign yourself to a boring job. Some people might be angry at what they call your "irresponsible behavior," but what your critics don't understand is that it's probably healthier for you to take artistic risks than remain stuck in a predictable rut.
Alder (March 18 - April 14)
You've always been an ambitious person, and now you should finally being given some challenges worthy of your talent. Making a name for yourself in your desired industry is a distinct possibility. You might take this opportunity to go on a job interview, show off your creative work or audition for a part in a show. Don't bother trying to blend in with the crowd; it's probably best to distinguish yourself in some way. This is one time when your individuality will likely be celebrated, not penalized.
Willow (April 15 - May 12)
You've always operated by stealth, preferring to work behind the scenes rather than commanding the spotlight. This St. Patrick's Day, you might have a lovely opportunity to operate independently. Putting a creative spin on a traditional medium will be lots of fun. Best of all, there probably won't be any meddling supervisors breathing down your neck. Don't worry if some people think your ideas are too wild. A significant minority might love what you're doing and clamor for more.
Hawthorn (May 13 - June 9)
A multi-talented person like you has no trouble making friends. That will likely be especially true this St. Patrick's Day if you attend a wild party. Your social circle can expand in exciting ways. Granted, most of your new pals might be extremely unconventional, but that's what you love about them. It's fun being surrounded by people who are eager to try extreme sports, experiment with different artistic techniques and explore radical ideas. This is your big chance to explore uncharted territory.
Get to know your Celtic sign in depth! A personalized Celtic Astrology Report from our sister site, Tarot.com, reveals your overall character, your personality in love and work, your power color, gemstone, animal and much more.