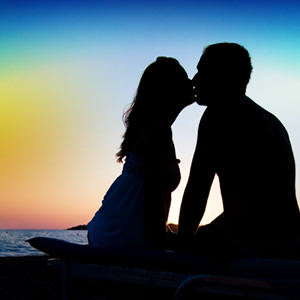 There's just something about the sunny summer months that warms our hearts to the idea of romance. The summer season always starts with the Sun's entry into watery Cancer, bringing up sentimental feelings for the first third of the season. Yet acting in a deeply feeling way may be difficult this year with action-oriented Mars in chatty, playful, "let's keep it casual" Gemini until August 3.
No matter how strong our emotions are, a tendency to express them indirectly can send misleading signals as we're likely to care more than we're willing to show. Still, loving Venus in Cancer indicates that we might take things very personally from July 3 to 28, which makes it especially important to be kind.
The Sun strides into Leo on July 22, but some of the boldness of this sign may be blunted when brainy Mercury turns retrograde on August 2. Mercury Retrograde demands we be extra careful when communicating with our partners and handling the details of our love lives until it shifts back into forward gear on August 26. That's just three days after the Sun shifts into analytical Virgo to finish off the summer with more precision and finesse.
Aries (March 21 - April 19)
Summer begins with the Sun's entry into your familial 4th House of Home Life, increasing your desire to enjoy some quiet one-on-one time close to home. Establishing a firming foundation on the home front may push you through some crises around June 26 - 28, but if you can keep your head on straight in the midst of these, the road ahead should be smoother. On July 22 the Sun shifts into fiery Leo and your 5th House of Romance and Play, initiating a 30-day period when love and creativity become more evident. Lovely Venus' move into Leo on July 28 offers more support for making favorable impressions on others and enjoying your life.
Taurus (April 20 - May 20)
Summer starts with tender words and delicate conversations as the cuddly Cancer Sun enters your 3rd House of Communication on June 21. Your sociable ruling planet Venus follows suit on July 3, underscoring the importance of talking about intimate matters. Finding safe settings is essential for allowing you to speak openly and listen attentively. The solar shift into dramatic Leo and your 4th House of Roots on July 22 tends to intensify issues at home and with your domestic partner. Be careful of stubbornness now; it is a risk that can lock you into old familiar patterns.
Gemini (May 21 - June 20)
Before you take off on the wings of romance, taking better care of your material resources may be the first order of business this summer. The Sun's entry into cautious Cancer and your 2nd House of Wealth on June 21 is a reminder to take care of your body, your property and your bank account. If fear arises, take some deep breaths and let logic overcome emotion so that you can make constructive moves instead of feeling overwhelmed. Once you can settle these nitty gritty necessities, your head and heart will be freer to enjoy life's actual pleasures. It's best to avoid starting a new relationship when your ruling planet Mercury is retrograde from August 2 - 26. This is an excellent period, though, to tie up loose ends from the past. Geminis in already established relationships will want to tread carefully and communicate clearly during Mercury Retrograde.
Cancer (June 21 - July 22)
Summer begins when the Sun enters your sensitive sign on June 21. Think of this as a homecoming, which can bring you warm and fuzzy feelings that others are sure to notice, or arouse unwanted memories from the past that can halt you on the road to romantic bliss. The Sun's stressful connections with disruptive Uranus and Pluto from June 26 - 28 are more about shaking things up than settling down. Be as flexible as you can so that you free yourself from old relationship patterns and inhibitions that are holding you back. Investing in yourself takes priority when the Sun moves into your 2nd House of Self-Worth on July 22. Putting time and effort into improving yourself gives you the fresh confidence that's intriguing to others.
Leo (July 23 - Aug. 22)
Summer begins on June 21 as the Sun enters self-protective Cancer and your ultra-private 12th House of Escapism. This begins a 30-day period when you may want to withdraw a bit so that you can rest, relax and finish tasks that have been holding you back. While solitude may not be the fastest track toward a romantic connection, taking time for personal contemplation helps you become more aware of your needs and the things you have to offer. On July 22, the Sun fires into your expressive sign, kicking off a celebration of life that can renew your physical energy and raise your enthusiasm. Vivacious Venus' shift into Leo on July 28 brings more charm and style, making you more desirable to others. Enjoying yourself is a key to making this magnetism and getting who and what you want.
Virgo (Aug. 23 - Sept. 22)
Summer starts on June 21 with the Sun in your 11th House of Friends and Groups. Getting involved in organizations where you can let your talents shine is an excellent way to meet an individual with similar interests, or strengthen the bond in your current relationship as you work together for a cause. You may encounter some bumps in the road around June 26 - 28 with tense solar connections to disruptive Uranus and Pluto. You'll probably feel like getting away from it all as of July 22 when the Sun scuttles into your private 12th House of Escapism. This begins a month-long period when wild romance takes a backseat to rest, retreat and personal contemplation. A solar transit into your competent sign on August 23 indicates that you're about ready for a fresh, healthy start in life and love.