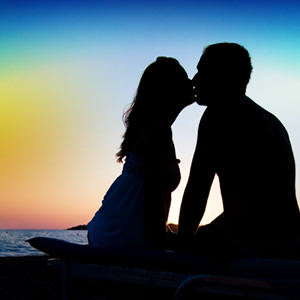 Libra (Sept. 23 - Oct. 22)
Love and romance may have to step aside as your other responsibilities weigh more heavily with the Sun's transit into your 10th House of Status on June 21. Sensitivity to others is usually your strong suit, but learning to act on your own instincts will make you a better leader and lover then. Your charming ruling planet Venus joins this part of your chart on July 3, kicking your people skills up a notch. Friends may play a key role in your love life when the Sun moves into your 11th House of Groups on July 22. But it's time to take off on an inner journey of restoration and contemplation as the Sun finishes up the season in Virgo and your 12th House of Spirituality starting August 23.
Scorpio (Oct. 23 - Nov. 21)
Meeting people from faraway places or those with exotic, open mindsets is favored early this summer as the Sun moves through your 9th House of Faraway Places, starting June 21. But the Sun's move into Leo and your 10th House of Career on July 22 can pull you away from your romantic explorations and set you right in the glare of the spotlight. Showing confidence and creativity without becoming arrogant can raise your professional status now. When assertive Mars enters Leo and this public part of your chart on Sept. 18, you'll be ready to launch a new project or bring even more passion to your job. If you're part of a committed relationship, this summer challenges you to balance your work life with your personal life.
Sagittarius (Nov. 22 - Dec. 21)
Relationship issues become tender with the Sun's entry into your 8th House of Intimacy on June 21, the first day of summer. Extra sensitivity is required to maintain healthy alliances. Showing your vulnerability without falling into self-pity can help develop greater closeness and trust. The mood shifts dramatically when the Sun moves into bold Leo and your adventurous 9th House of Expansion on July 22. Whether you take your partner along or go it alone, traveling the world, expanding your mind and opening your mouth to express your opinions more strongly fit the agenda. You can get away with saying just about anything you want as long as you are generous and maintain a sense of humor.
Capricorn (Dec. 22 - Jan. 19)
Summer begins with the Sun's shift into your 7th House of Partners on June 21, setting the tone for the next two months. You may be working harder in relationships, but the rewards are worth the effort. First, it's vital to listen and show that you really care about what others are saying. You cannot run a relationship on your own. If you're willing to be changed by your connections with people, then you will gain the closeness, love and emotional support that will take an alliance to the next level. Being tender feels risky, yet will bring you much more than hiding your deeper feelings.
Aquarius (Jan. 20 - Feb. 18)
Opportunities for romance crop up later this summer, since the early months of the season are more about your personal health and daily routine. The Sun in your 6th House of Health and Service is a reminder that you need to improve your systems to keep up your well-being and productivity. But, the Sun's move into outgoing Leo and your 7th House of Partnerships on July 22 spurs more expressive behavior and more action in relationships. You'll be ready to come on stronger in personal and professional partnerships. Taking risks by showing your heart may overwhelm someone but is a key to giving and getting love.
Pisces (Feb. 19 - March 20)
Summer starts sweetly on June 21 with the cuddly Cancer Sun illuminating your 5th House of Play and Romance. This begins a delicious month that can be rich with joy and love. However, June 26 - 28 is a tense period when sudden changes of mood and circumstances can upset your emotional apple cart. Developing work skills and increasing efficiency in your daily life and health habits take the stage on July 22 when the Sun enters your 6th House of Routine. But relationship doors open again on August 23 as the Sun peeks over your personal horizon and into your 7th House of Partnership.