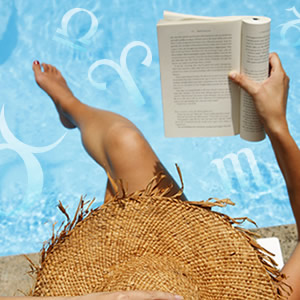 Need a good book for bed, beach or beyond? Here, let us help! November 5 is Book Lovers Day, so we've checked out some of the Best Books of 2011 for every horoscope sign -- whether you're an Aquarius who's into reading science fiction or a Gemini who needs a laugh.
Aries (March 21 - April 19)
As the Warrior sign, you'll find yourself drawn to stories of battle and the military lifestyle -- but how about one with an exciting twist? Check out Esmeralda Santiago's "Conquistadora," about a young Spanish woman in the 1830s who leaves her aristocratic world behind to become a female conquistador.Your fiery Aries spirit will enjoy the book's expedition into Spanish history and thrilling suspense right up to the end.
Taurus (April 20 - May 20)
Stubborn as a Bull, you can appreciate tales of epic perseverance. This summer delve into Alexandra Fuller's "Cocktail Hour Under the Tree of Forgetfulness," a loving look at Fuller's mother -- a wisecracking, machine-gun toting Scottish woman as she was growing up in civil-war torn Africa. The story's themes of love and loyalty to the land are totally Taurus, who will cozy up with a big plate of cookies to finish the story of survival, madness, love, war and family all in one long sitting.
Gemini (May 21 - June 20)
Quick and clever, Gemini won't be content stretched out on a beach with a fluffy romance novel: You want your mind fed! Try feeding your brain with Jane Borden's "I Totally Meant to Do That" (which is not just the title of her book, but something you Geminis are often overheard saying, right!?). This collection of hilarious essays by the comedy editor of Time Out New York will ensure Gemini doesn't get bored with one long story, and her funny stories about everyday challenges -- moving, finding a roommate, etc. -- will mange to capture even the shortest Gemini attention span.
Cancer (June 21 - July 22)
Family oriented Crabs might want to settle in to a story about the ups and downs of domestic life, such as Liane Moriarty's "What Alice Forgot." The story follows a woman who hits her head and loses all memory of the past 10 years, waking up to realize her life is not what it used to be. Instead of being 29 and happily married, she realizes she's actually 39 and in the midst of a terrible divorce. What ensues is an honest, funny look at domestic life that will appeal to sentimental Crabs in a knowing way.
Leo (July 23 - Aug. 22)
You like bling and you like the finer things in life, and you also like to look good -- or at least you like to read about people who have all that glam wrapped up in one dramatic book you can't put down. Katharine Weber's "The Memory of All That: George Gershwin, Kay Swift and My Family's Legacy of Infidelities" is a rollicking memoir about a crew of eccentric characters centered around the wealthy Warburg family. You'll meet Weber's grandmother, who was Gershwin's mistress, among many others who lived life to the funniest and fullest. You know, kind of like YOU do, Leo!
Virgo (Aug. 23 - Sept. 22)
Your ruling planet is information-gathering Mercury, so you like to delve deep into either true stories or current affairs. Dorothy Wickenden's "Nothing Daunted: The Unexpected Education of Two Society Girls in the West" is perfect for Virgo's keen eye for detail. This true story about two Smith graduates who venture to Colorado in 1916 to teach school on the frontier is told via a collection of old letters, which will especially appeal to Virgo's honest communication style. Not only that, but a story about teachers is extra appealing to Virgos, who themselves are perfectionists when it comes to avoiding grammatical errors and bad punctuation!
Learn more about what you like -- and what you don't -- with a Self Knowledge Tarot Reading from Tarot.com.