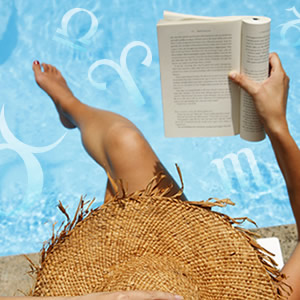 Libra (Sept. 23 - Oct. 22)
As the partnership-oriented sign of the zodiac, you are fascinated by relationships and personal connections. But your compassion and constant quest for balance also make you a sympathetic friend. That's why laughing along to British author David Nicholls' "One Day" is a natural choice. The book (which will be released as a film this summer starring Anne Hathaway) tells the story of Emma and Dexter, a pair who meet in college to embark on the friendship of a lifetime. The story is told via glimpses into just one day each year -- every July 15 from 1988 through the next 20 years -- and the humor is uproarious even as it breaks your heart. You'll laugh, you'll cry, you'll be thankfull you're a Libra
Scorpio (Oct. 23 - Nov. 21)
You, Scorpio, are famous for your intensity, and your reading choices had better measure up! Grab a copy of Kathryn Stockett's "The Help" and prepare to be wowed. Stockett's riveting story is about African American maids working in white households in Jackson, Mississippi during the early 1960s. The stories of three women are intertwined to reveal some ugly truths about life in Jackson, examining intense issues about money and power dynamics between white and black families. Full of heart and history, this book will appeal to Scorpio's desire to bring dark issues into the light.
Sagittarius (Nov. 22 - Dec. 21)
The philosophical globe-trotter of the zodiac, you need a good read that will feed your mind and get you thinking and planning your next adventure. Elisabeth Eaves "Wanderlust: A Love Affair with Five Continents" is just your ticket to join Eaves in reliving her soul-searching 15-year journey to experience new people, new cultures and new romance from the jungles of Papua New guinea to Cairo and everywhere in between. Sag will really relate to the young woman's search for sensory pleasure and spiritual fulfillment.
Capricorn (Dec. 22 - Jan. 19)
Goat, you are methodical in everything you do, and you're such a hard worker you quite often become the boss! But that doesn't mean you don't also have a great sense of humor, which is why Tina Fey's "Bossypants" is the perfect summer reading for you. Emmy Award-winning "30 Rock" comedienne Fey's memoir recounts her childhood in Pennsylvania, college shenanigans and tales from behind the scenes at Saturday Night Live. You'll read along and relate to the fact there's no stopping this woman, who's every bit as ambitious and successful as YOU.
Aquarius (Jan. 20 - Feb. 18)
Futuristic Aquarius loves to think big and far out, so you will really get into Robert Charles Wilson's "Vortex," the story of a man who is transported ten thousand years into the future by some unknown and mysterious beings. This hypothetical look at the future of a dying Earth and a humanity threatened will appeal to the eccentric Aquarian, who also has a fascination with technology and sci-fi -- and who always need to be working toward a cause for the greater good, even if that means just reading about it.
Pisces (Feb. 19 - March 20)
Dreamy Pisces, you often inhabit your own reality -- complete with its own sense of time! Since yours is the sign of dreams and illusion, Sara Gruen's "Water for Elephants" (released as a motion picture this summer, too!) might as well have been written just for you! You can easily suspend your disbelief to enjoy this story set in a circus world of clowns and freaks circa the Great Depression. The story is told through the memories of an old man looking back at the wonder and pain and passion of his time as part of a special trio that included an equestrian gal and an elephant named Rosie, all working for a third-rate circus. You'll enjoy the depth of emotion the trio share -- and the mystery of how things will end!
Learn more about what you like -- and what you don't -- with a Self Knowledge Tarot Reading from Tarot.com.