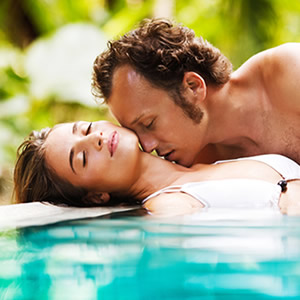 Summer flings are just plain fun. And even if you're already commited, you can still fantasize! See what kinds of amorous antics you -- or the people who share your sign -- might get into during these sultry days of summer.
Aries (March 21 - April 19)
Just whisper the word "adventure," and Aries starts to salivate. These active people will follow the scent of sweat, and perhaps even blood, to satisfy their urge to live on the edge. Aries could easily seduce a white water kayaking guide or rock climbing instructor while they're sharing a moment of death-defying action. Aries and friend can spend long hours massaging away their aches and pains as they swap yarns of derring-do back at the camp.
Taurus (April 20 - May 20)
Hiking and biking are Taurus' two favorite outdoor activities, because they let the steadfast Bull get out in the sunshine and remain connected to the ground. Quick to spot a cutie from behind on the trail, Taurus will pour on the charm, and may even suggest a place to consummate reciprocal attraction. The first flirtation might happen at the nearest canteen or ice cream parlor serving waffle cones stuffed with gooey rocky road.
Gemini (May 21 - June 20)
Gemini likes summer because people are outside and there are more opportunities to meet them. Still, these Mercury-ruled people have a craving for all things electronic -- a need that may be hard to meet in the outdoors. Though travel can be an opportunity to see new things, it can also produce anxiety due to Gemini's severance from their Wi-Fi hotspots. Gemini could fall in serious "like" in the airport electronic store, then later get initiated into the Mile-High Club.
Cancer (June 21 - July 22)
Cancer loves food in every season, but summer is the most fertile. Even if these gastronomically inclined people don't do the cooking, they know good ingredients when they smell them. Love could come when an equally enthusiastic individual shows signs of swooning over seafood and fruits at the local farmer's market. Rather than going for a handy roll in the hay, Cancer will probably insist on bringing the prey back home where they'll have all the comforts they could possibly need.
Leo (July 23 - Aug. 22)
Sensational-looking Leo folk will lure many admirers when stripped down to swimmies, so the pool or beach is the place for them to find love. All they need to do is pose, and before long a special someone who can't resist that wild mane and sexy smile will be there to rub on the SPF. Never without a den to retire to, look for Leo to set up shop in a private cabana where they can go when the time comes to "get a room" -- with mirrors on the ceiling, of course.
Virgo (Aug. 23 - Sept. 22)
Even finicky Virgo wants to take some time to get back to life's simple pleasures in the summertime! One of Virgo's most amazing abilities is the power to grow gardens almost anywhere. Virgo's heart could warm toward love when confronted with someone who shares their passion for cultivating beautiful flowers, tasty herbs and crisp, fresh vegetables. A few love scenes behind the nursery or inside the shed will fuel this earthy romance.
Libra (Sept. 23 - Oct. 22)
Beauty is the road to love for all Librans, both male and female. That's why they could be the one sign that has no problem meeting members of the opposite sex at the spa! Once they find each other, they can share their penchant for pampering during long weekends of de-toxing in the steam bath. Sensual oils and alluring aromatherapy will pull Libra away from mental gymnastics and into the earthy ecstasy of a mud bath for two.
Scorpio (Oct. 23 - Nov. 21)
Summer's a great time for reading, and Scorpios never want to be left out of the latest trends in literature -- even the mind candy that proliferates during summer. As for sex, Scorpio is ready for it any time, anywhere -- including the local bookstore! Ever wonder what goes on behind those stacks and stacks of mystery novels? Look closer, and you could find Scorpio and a special friend getting down and dirty while they're comparing reading lists and playing "show and tell."
Sagittarius (Nov. 22 - Dec. 21)
Sagittarius' idea of the perfect summer day is playing games that fill the Archer's need to hit the target. More Sagittarians than other signs are probably listed on the rosters of those tennis and golf clubs, both public and private. Hitting the ball and getting the ball into the hole are substitute target games that satisfy Sag's need to roam the earth and remain in constant motion. A golf twosome or tennis doubles match could mutate into stolen kisses in the parking lot -- and heat up to a tawdry tryst at the nearby motel.
Capricorn (Dec. 22 - Jan. 19)
Yes, it's true: even Capricorns celebrate the easygoing spirit of summer. That doesn't mean they take their eye off the prize for very long, though! While they're enjoying the BBQ at the office picnic, they could also be schmoozing the boss for a raise or promotion they expect down the line. Cupid's arrow could strike when they wind up inadvertently bound to a hottie during a three-legged race, and decide later to re-enact the tying up part in private.
Aquarius (Jan. 20 - Feb. 18)
Aquarius is always ready for something new and different, but will never be attracted to anyone who doesn't share a profound passion for all things political and transformative. The Water-bearer's heart could crack open at a chance meeting while painting the city park's benches or in the middle of a convention celebrating the creativity and diversity of science fiction art or Japanese anime. Aquarius will look through the quirky crowd, and pick one very unique person to take back to the bedroom.
Pisces (Feb. 19 - March 20)
Pisces dances on the boundary between the seen and the unseen, so the warmth of summer will definitely bring out this mystical person's connection to the eternal. Whether just for fun or in search of a real date with the unseen, Pisces could meet a match while in line waiting for a Tarot reader, palmist or seer at a street fair or amusement park. There could be a discovery that the love affair they're looking for in the future is there -- right in the moment, as they instantly wonder together whether the fortune teller is willing to rent out the tent.
Get more love insight with a Love Celtic Cross Tarot Reading from Tarot.com!