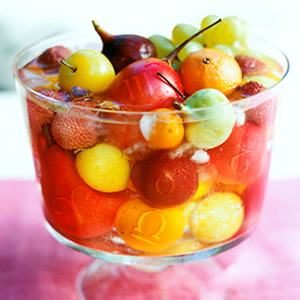 Memorial Day weekend marks the unofficial beginning of summer! Which fresh dishes are best for your BBQ? It all depends on everyone's horoscope sign! Intrepid Fire signs are in all about the grill, while light-hearted Air signs flock toward of salads. Sensual Earth signs lovehearty side dishes, while sweet Water signs will linger by the desserts and drinks.
See the best summer foods to fit your style by looking up your horoscope sign below!
Aries (March 21 - April 19)
Get creative with kabobs, Aries. The warrior in you is apt to really enjoy the skewering process! Marinate chunks of salmon, mahi-mahi and shrimp ahead of time, then alternate with fresh bell peppers, onions and cherry tomatoes. Or, use marinated chunks of lamb, beef or chicken. For vegetarians, substitute firm tofu, tempeh or sliced Portobello mushrooms. In all cases, don't overcook -- kebabs must be juicy and tender!
Taurus (April 20 - May 20)
Think southern, Taurus. We're putting you in charge of stick-to-your ribs baked beans and corn bread with real butter. Find a down-home recipe that combines onion, bacon, garlic and pork fat with lima and kidney beans, and simmer in a snappy molasses-Worcestershire-mustard sauce. Make the cornbread from scratch rather than using a prepared mix, and bake it in a skillet. Before eating, briefly toss the cornbread on the grill for a smoky flavor.
Gemini (May 21 - June 20)
Throw together a crowd-pleasing farmstand corn salad. Use fresh, lightly-cooked corn kernels and asparagus pieces, chopped basil and cherry tomatoes tossed with lemon juice, olive oil, salt and pepper. Or, delight us with a classic Greek salad made with Romaine lettuce, kalamata olives, slices of red onion, cucumbers, tomatoes and crumbled feta cheese, tossed with an oil and balsamic vinegar dressing.
Cancer (June 21 - July 22)
You'll make us swoon, Cancer, with Grandma's peach, apple or cherry pie made with sweet, summer-ripe fruit. Dust off your pie crust-making skills and roll out a pastry shell -- don't forget to include extra strips for a lattice top. We'll forgive you for using a prepared crust if you top your pie with a warm, crunchy pecan/brown sugar/butter mixture -- and don't forget the whipped cream! Fresh lemonade made with sweet Meyer lemons will also delight us.
Leo (July 23 - Aug. 22)
You're the master of the grill, with your delectable barbecued chicken, ribs or burgers. Marinate the chicken ahead of time in a lemon-mustard-basil sauce, or the ribs in a catsup-chili-molasses-mustard-lemon concoction, and grill indirectly for maximum juiciness. Make classic burgers, or get fancy with bacon cheeseburgers using pancetta and white cheddar cheese, with plenty of grilled onions and tomatoes on a bun toasted with herbed butter.
Virgo (Aug. 23 - Sept. 22)
We always look to you for the healthiest contribution to any feast, Virgo. Start with tortilla chips and homemade guacamole dip using ripe avocados, finely chopped onions, chiles and cilantro, seasoned liberally with garlic salt, pepper and lemon. Or, team raw veggies like celery, carrots and bell peppers with a yogurt-dill or onion dip. Cucumbers marinated in seasoned vinegar and olive oil would also please the crowd.
Libra (Sept. 23 - Oct. 22)
You like an elegant presentation, Libra. Mozzarella balls with basil leaves and halved cherry tomatoes skewered together on toothpicks make for an appetizer with visual as well as gastronomic appeal. Equally appealing is a fresh fruit salad combining the red of strawberries and raspberries with the green of kiwis and grapes, offset with sunny-hued oranges and melons. Drizzle with a lemon-honey-mint sauce to top it off.
Scorpio (Oct. 23 - Nov. 21)
We're looking for devil's food from you. Indulge us with a double-fudge chocolate cake, moist, chunky brownies or s'mores -- roasted marshmallows with melted chocolate between two halves of a cookie. Or, give us something tart but sweet, like lemon bars frosted with confectioner's sugar, or luscious key lime pie with a graham cracker crust and meringue topping. A zesty Sangria punch will also win our hearts!
Sagittarius (Nov. 22 - Dec. 21)
You appreciate something you can just throw on the grill and wow the crowd with, Sagittarius. Try quick-and-easy hot dogs (or veggie dogs) stuffed with cheddar cheese and jalapeno peppers. Tie them together with string before grilling, then snip before serving. Grilled corn on the cob is an eternal -- and easy -- favorite. Brush the grilling ears with butter seasoned with herbs like oregano, basil and lemon pepper.
Capricorn (Dec. 22 - Jan. 19)
We're leaving the old-fashioned favorites for you, Capricorn. Although the Air signs are technically in charge of salads, your mama's best potato, tuna or macaroni salad qualifies as a hearty meal in itself. You'll also score a win with deviled eggs -- add curry or caviar to make them extra special. And, crab cakes with aioli butter or mustard sauce will definitely make waves -- be sure to use fresh dill and top them with red pepper relish.
Aquarius (Jan. 20 - Feb. 18)
The lightest of salads are your domain. That could translate as a vinaigrette cole slaw made with carrots, cabbage and onions, then seasoned with lemon pepper. Or, a melt-in-your-mouth Jell-O salad containing fresh peaches, orange slices and strawberries. You'll also grab us with your classic Waldorf salad featuring apples, celery, walnuts, raisins and grapes in a fruity yogurt dressing. Or, bring us a simple but delicious watermelon!
Pisces (Feb. 19 - March 20)
You bring the strawberry shortcake, Pisces. Use sweet summer berries on angel food cake, drizzled with a sour cream whipped topping and powdered sugar. Or, if you're feeling more ambitious, thrill us with a gooey, out-of-this-world pineapple upside-down cake. We're also looking to you for delectable drinks, like raspberry iced tea, high-grade beer or a pitcher of Cuban mojitos featuring club soda, sugar, fresh mint and lime juice.
See what's in store for you personally with a 30-Day Astrology Forecast from Tarot.com!