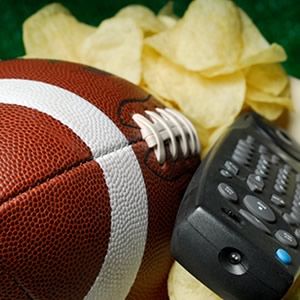 Are you ready for some football? Super Bowl Sunday is February 2, and millions of Americans across the country are preparing for 24 hours of boozing, belching and all-around heightened aggression. Uh oh.
Whether you're a Broncos or Seahawks fan (or not a football fan at all) if you'll be watching the big game, chances are you'll be watching amongst friends and family. So, read these helpful, testosterone-free tips to ensure your day is fun, safe and full of good Karma. And hey, maybe it'll bring your team some luck!
Don't be a party pooper
There's always at least one person at a Super Bowl party who doesn't want to be there. Really doesn't want to be there. If that person is you -- if you're being dragged by your fanatic of a friend or significant other and couldn't care less about the game, don't be a drag. Enjoy the munchies, converse with an equally-unimpressed party goer and find a way to watch the big screen -- at least wherever that timer thingy is.
Stay away from the screen
Speaking of the big screen: Whatever you do, do not step in front of it! You don't want to be the person who's responsible for making everyone miss catching that awesome, unexpected play because you needed more salsa. That's what commercial breaks are for!
Bring something to share
Food is almost as important on football on this day. If you're invited to a party, don't show up without bringing something for everyone to pig out on. If you're the one throwing the party, make sure to offer your guests the essentials: wings, chips and dips. Goes without say, really; can't have too many munchie snacks on Super Bowl Sunday.
Keep the competition friendly
The energy in a room where most people are either pumped up or peeved out can get out of hand. When the trash-talking takes a turn for the worse, you don't want ruined spirits to ruin a good time. Try to help maintain a lighthearted environment with everyone around you, keep the chips replenished and don't say anything to someone who's rooting for the opposite team that you may regret once the players hit the showers.
Get home safely
The game's over, and you're either really happy or just the opposite. Either way, Super Bowl Sunday is one of the biggest drinking events of the year. There's nothing wrong with ballin' and boozin' but it's a known fact that the rate of car accidents is exceptionally high after the game is over and people start to head home. Don't drink and drive! That's one good Karma tip we can all agree on.
Get more insight for improving your Karma with a Karmic Lesson Tarot Reading from Tarot.com!