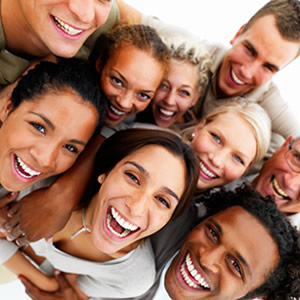 We have a new Karma queen on our hands, but no one knows exactly who she is. On Wednesday, a mysterious woman with a big heart and some spare cash showed up at the Big Lots! store in El Paso, Texas, and began giving away $100 bills.
According to KVIA-TV, the ABC affiliate in El Paso, the woman approached about 12 people and gave them $100 each. Shop clerks believe she also went on to hand out even more money in neighborhing stores.
One of the Big Lots! customers, Julie Mireles, told the news station that the woman stopped her in the parking lot and said "Excuse me young lady, can I just bless you with this?" and then she put a $100 bill in Mireles' hand.
When one customer asked the woman, who appeared to be well-dressed and in her late 50s, why she was doing this, the woman reportedly just pointed to her heart and smiled.
We're smiling, too. This is one of the most generous random acts of kindness we've heard about in a while, so we Daily Defenders thought we'd pass it along as a reminder of how amazing it feels to be on either the giving or receiving end of a kind act shared between strangers.
If you're feeling inspired to do something nice for someone now, here are 10 random acts of karmic kindess to help you get started:
10 Random Acts of Karmic Kindess
Smile! Smile at co-workers, fellow shoppers and strangers you pass on the street. It'll improve everyone's energy and attitude all around.
Buy the person in front of you a cup of coffee! In line at Starbucks? Just step up and say "that one's on me!"
Instead of fighting traffic, be the nice driver designated to letting others pass and merge with a friendly wave, even if it means you must wait.
Baby, it's cold outside. If you're taking 10 minutes to sweep the snow from your front sidewalk, why not take 10 more to sweep your neighbor's?
Hold the door! Hold the elevator door, the grocery store door, the department store door… you get the idea. Let others go first!
Shop selflessly. Buy a charitable gift along with your other holiday gifts. Pick up a toy to donate to a children's charity, or a warm sweater to give to a women's shelter.
Save all your change in a special coin purse, and don't think twice about giving it all to the bell ringers you see braving the cold to collect donations.
Give up that sweet parking spot right next to the front entrance of the shop or restaurant you're heading into. You can walk a few extra steps to make someone's day, can't you?
Standing in a long line at the grocery store with a cart full o' goodies, while the person behind you has one graperfruit? C'mon, let 'em go first.
Pay someone a compliment! You know how it makes your day when someone says you have nice eyes or they like your shoes? Make someone else feel like that.
Have you ever been on the receiving end of a random act of kindness from a stranger? If so, leave a comment and tell us about it. And let us know if you have ideas for other random acts of karmic kindness, too!
If you like what you see on dailyhoroscope.com, please consider following us on Facebook and Twitter.