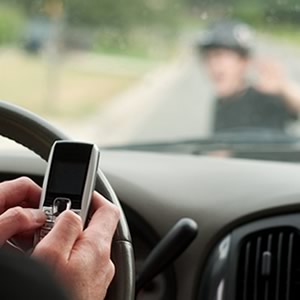 Okay, what's it going to take to stop the madness?
A study released late last year shows over 16,000 human beings have lost their lives in just six years due to something that is absolutely, 100% avoidable: texting while driving. And a new poll released by the Department of Transportation reports that an alarming 68% of drivers under the age of 30 have admitted to using a mobile phone while driving, with a whopping 30% actually using their hands and heads to text while operating a vehicle.
The least we can say is that texting while driving is a gross violation of an incredible 30% of DH's Karmic Laws. But what's far, far worse is that good, ambitious, young, living, breathing people are literally dying for it.
Did you know that only eight states in the U.S. have banned hands-on cell phone use while driving? And that not one single state has banned cell phone use all together for all drivers while driving a vehicle? And believe it or not: more than 30 states in the U.S. actually allow some sort of cell phone use by a bus driver while operating a school bus.
As mobile technology grows, expectation from our friends and loved ones and coworkers to be available 24/7 grows with it. There can be a lot of pressure to answer our phones at all costs, to respond to each and every individual text within 30 seconds or else. It's quite easy to fall into the texting trap. But ask yourself this: what on earth could any person have to say that is truly worth the guilt one lives with for the rest of their life knowing they are responsible for the death of another human being? And even if it doesn't come to that, is answering that "what's up?" text honestly worth weeks of your time and thousands of dollars to deal with the hassle of a car accident?
It's not where your hands are, it's where your head is. It's time we all take responsibility for ourselves and allow ourselves and every other person on the road a little peace, quiet and concentration while driving. Your office is your office, and it's meant for you to connect with your work. Your home is your home, and it's meant for you to connect with your friends and loved ones. Your car is your car, and it's meant for you to get from point A to point B while being responsible for yourself and hundreds of others on the road.
Lives are at stake, and it's not worth it. Hang up and drive.
Have you ever gotten in a car accident because you or another driver were distracted by a cell phone?
If you like what you see on dailyhoroscope.com, please consider following us on Facebook and Twitter.