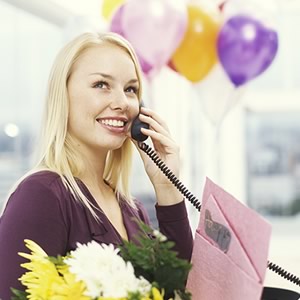 Every day, you have thousands of seconds in which to do with as you choose. Gratitude only takes a second, so why don't we do it more often? The German philosopher and mystic born in the Thirteenth Century, Meister Eckhart von Hochheim would calculate the seconds in a day (86,400) to remind his students that gratitude has rewards. Take the next few seconds to consider how you can show your gratitude. You'll see how it can help improve the quality of your life and those around you.
1. You'll smile as you give gratitude for a favor done, and the doer will smile back. Laughter and smiles extend life and promote good health.
2. Gratitude strengthens relationships by making the thanker and the giver each more aware of their responsibility for the other's well-being.
3. Expression of gratitude makes the recipient happy, rewarding them for having provided for you and encouraging them to do so at another time.
4. Your attitude turns more positive -- think about it. If you focus on something good someone did, how can you think negatively?
5. You grow spiritually by recognizing another person's gifts and talents.
6. A popular inspirational series, 48 Ways to Wisdom, says that acknowledging spiritual gifts by saying "I am now aware of something very important that I wasn't paying attention to" helps you to recognize what you're learning on your path to wisdom and enlightenment.
7. Expressing gratitude leads you to switch your focus from what is missing in life to the abundance that brings real joy. Remember that abundance is not just about what you have, it can be about what you were spared.
8. Saying, "Thank you, I'm grateful," sets an example that can be easily paid forward by those around you. You'll plant the seeds of a garden of happy interactions and reap the rewards of finding more love surrounding you.
9. "Thank you's" and gratitude enhance your vision. You'll see other people and yourself in a new frame of reference when you take that short one second to acknowledge that it's a beautiful world.
10. If your heart is filled with appreciation for all that you have and for those who care for you, you'll be prepared to face adversity, when it comes, with courage and dignity.
Find a way to keep track of how consistently you feel grateful and how often you express it. You might keep a journal, log your grateful moments on your computer, or just pause and reflect when you've remembered to say thanks. A French proverb calls gratitude the memory of the heart. What a beautiful thought as we go about our days. Doesn't it seem worth it to tithe one second out of nearly 100,000 on any given day and create a memory in your heart?
Looking for answers? Talk to a psychic now for $1/minute. Call 1.800.721.7247 or choose your psychic now.