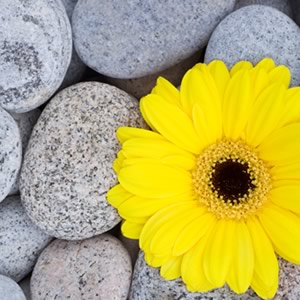 Here we are, all stressed out! We can feel the world changing at a rapid pace, which is now being ramped up by the epic series of Uranus-Pluto squares taking place from 2012 to 2015. We're all in this together, folks, and it's important to stay positive when facing so many stressful challenges. But how?
Staying positive in tough times does take some effort, but that's why we Daily Defenders are here to help. We hope you're already using the insight from your daily horoscope to make each day brighter.
Beyond that, the Karma-conscious folks here at DH have put together some simple, practical things you can do to improve your outlook (which will in turn improve your life). Here are some bright ideas -- large and small -- for staying positive in tough times:
Turn that frown upside down
Ok, we hope this doesn't sound trite, but… smile! You may have heard that smiling releases endorphins in your brain that make you feel good. It's true! This is where expressions such as "fake it till you make it" and "grin and bear it" come from. Just force a smile, hold it for a few minutes, and see if you feel better. You'll feel so silly fake-smiling that you probably can't help but laugh. And all that smiling and laughter is contagious, so you're sure to find others smiling back.
Keep a journal
A great way to get rid of negative thoughts it to empty them out on paper. Studies have shown that journaling reduces stress. You don't need to be a good writer -- heck, you barely need to be coherent. Just write about what's troubling you and get it out, and then write about your wishes and hopes and dreams. It's a proven method of purging the negative and focusing on the positive, which will lead to more emotional well being.
Let Calgon take you away
Bubble baths are an obvious happy-inducing indulgence, and that purely physical act of soothing will soak right into your brain. Let the warm water relax your physical aches, and add scented bubbles -- mmmm, lavender -- to ease any emotional pain. Immersing yourself into such a relaxing experience will lift your mood long before your fingers begin to prune.
Talk about it, but not too much

It's good to talk about your problems -- with a friend, a family member or a professional. But recent studies have shown that talking about your troubles too much can actually hurt. It puts too much focus on the negative. You know those people who are always whining about what's getting them down? Well, at some point all that negativity turns into a self-fulfilling prophecy. A far better approach is to talk briefly about your problems, then talk at length about solutions and what makes you happy -- or at least address positive steps you can take to change your situation.
Take care of yourself
Nothing will make you crankier and more prone to a bad attitude than eating junk, overdoing your alcohol intake or not getting enough rest and exercise. When you feel good physically, it's so much easier to feel good mentally. Challenge yourself to be more conscious of your physical health, and if you need help, join a fun group of other likeminded peeps – we find this Facebook group taking part in A Year of 30-Day Challenges so inspiring!
Show kindness toward others
Volunteering, helping a friend or performing a random act of kindness for a stranger will do you as much mental good as the person you're helping out. What better way to prove there's goodness in the world than proving it to yourself?
Get more help staying positive with a Peace & Harmony Bottom Line Tarot Reading from Tarot.com!