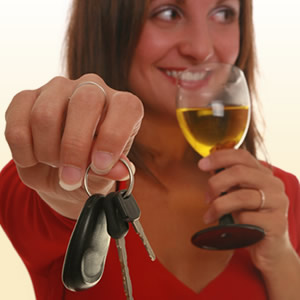 You know we're living in a highly sophisticated society when fashion retailer Urban Outfitters is under attack by members of the Irish community for selling T-shirts with slogans such as "Irish I Were Drunk" for St. Patrick's Day.
It's not pretty, people. We don't have anything against a glass of wine or a cocktail here and there, but is it really necessary to advertise your drunken shenanigans? Isn't there a better way to go about this? We think there is.
As we approach the biggest green-beer-drinking holiday, let's try to keep our good Karma intact. Here are the Top-10 Do's and Don'ts For Good Drinking Karma to see you through St. Paddy's and beyond:
DON'T Mix DrinksMixing alcohol is hard on your stomach and hard on your head. But especially hard on your stomach (see reference to vomitous drunken shenanigans above). Everyone, including you, will feel better if pick one drink of choice and stick with it all night.
DO Know Your LimitUnless it's your first time drinking, you should have a good idea of how much you can handle. Stick to that and don't be pressured into "one more drink" if you know it will make you too drunk. And p.s., don't ever start drinking on an empty stomach -- that will limit your limits for sure!
DON'T Leave Your Drink UnattendedDo what you can to protect yourself from creeps who might slip something into your drink. If you're mingling, carry your drink with you. If you go to the dance floor or restroom, finish your drink first or order a new one when you get back.
DO Look Out For Your FriendsTake responsiblity for your friends by keeping an eye to ensure they don't drive drunk or go home with strangers, and that they get home safe. Wouldn't you want your friends to do the same for you?
DON'T Trust Your Beer GogglesIf you meet someone you think is fascinating, brilliant and gorgeous, go ahead and get their digits. But make sure you meet up again for a sober conversation before planning any dream weddings or naming your firstborn.
DO Drink WaterStaying hydrated before, during and after a night of drinking is the best way to prevent some of alcohol's most pesty side effects -- namely getting drunk too fast and having hangovers the next day. Have a glass of water between drinks!
DON'T Drink and Dial, Text, Tweet or PostOver the years, the rule about not drunk dialing has expanded to include not texting, tweeting or posting anything on Facebook while drinking, too. Avoid saying something you regret or making embarrassing typos and errors, and practice good digital Karma along with your good drinking Karma.
DO Be Aware of Your SurroundingsBefore you begin drinking, scope out the restaurant or house party to find the bathroom, take note of the exits, locate a secure place to store your purse and a calm place you can go later if you need to regroup. Doing this while sober might save your drunken butt.
DON'T Dance On the BarWe beg of you, please avoid outrageous dance moves that attract too much attention to your insobriety. Trust us, you're not as cute as you think you are right then.
DO Call a CabNot driving drunk is a no-brainer, but you also need to remember that tipsy is drunk. We continue to hear stories about people who have one drink and think they're fine to drive, but if one drink gets you buzzed -- and for many it does -- it's not just bad Karma, it's deadly Karma.
Find out your Celtic zodiac sign and more with a FREE Cosmic Profile from Tarot.com!