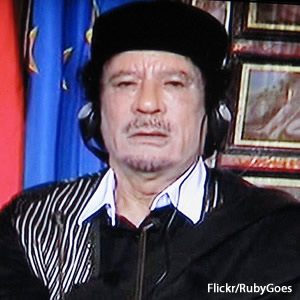 All eyes are on Libya and the death of longtime leader Moammar Gadhafi, as Libya's transitional Prime Minister confirmed that Gadhafi was killed early Thursday morning as he tried to escape from a convoy NATO warplanes had attacked. As the Libyan people rejoice over Gadhafi's death, let's take a look at Gadhafi's birth chart to learn more about the man who ruled Libya for 42 years -- and who was so despised by his own people.
We were initially surprised by what we found. Gadhafi's Sun, Jupiter and Saturn are all in Gemini. At first glance, this prominent presence of Gemini doesn't seem to fit his profile. Gemini is an airy, intellectual sign -- more about fairness and clear communication than fierceness and violence. But Gemini is also the sign of the Twins, and this is where contradiction comes into play.
Gadhafi has so much love and pride in and for his country (and/or himself) -- so much so that he's willing to take whatever steps necessary to hold onto it. One would think he would choose to honor his people, when in fact he's done the opposite. His Sun, plus the slower-moving planets' positions in the sign with "many faces" represents his struggle to control the country he quite literally loves to death.
It's also interesting to note that Gadhafi's communication planet Mercury is conjunct Jupiter, which means he sees the bigger picture, rather than its component parts. Perhaps he only sees Libya as a country he must rule because he has ruled it for so long, rather than the livelihood of its people. Societies transition over time, requiring change and progress.
Attributing to Libya's unrest could also be planet Uranus, which takes 84 years to orbit the Sun. Gadhafi took his place as leader 42 years ago, which is half of 84, representing a mid-life crisis of sorts.
Read more in Master Astrologer Jeff Jawer's blog about the fall of Gadhafi, which explores where all these changes are taking us.