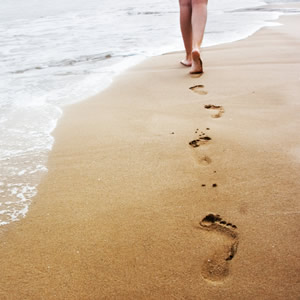 Need a vacation? If you're lucky, you'll have a chance to take off and escape from job stress, family responsibilities, bad weather or just too much routine. Keep in mind while you're dreaming up your next big vacation that each horoscope sign has a different definition of fun and relaxation.
Here are some suggestions for every sign, to help you capitalize on all the magic that "getting away" can mean for you.
Aries (March 21 - April 19)
You Rams are active all year round, and you love being outdoors as much as possible. Skiing, hiking, and biking allow you to leave the constraints of work and family behind. For a vacation, consider venues that offer access to being physical in a big way during the day, but also invite you to stay up all night. A ski resort or casino hotel might fit the bill.
Taurus (April 20 - May 20)
Like Ferdinand the Bull, your greatest joy is to stop and smell the flowers. You love to kick back and be pampered, and vacations invite you to do just that. Long, leisurely strolls through the grounds of a historic inn or medieval European castle could help you let go of work. Lolly-gagging at a spa or health resort is also sure to float your boat ... especially if gourmet foods are on the menu!
Gemini (May 21 - June 20)
Vacations that provide plenty of intellectual stimulation are right up your alley, Gemini. Consider heading for an ancient ruin, big city, or historical monument. A restless character like you can benefit tremendously from a walking tour. Don't forget to bring a travel journal and camera with you. Half the fun of your vacations is discussing them with friends and family.
Cancer (June 21 - July 22)
An old city by the water is the perfect vacation destination for a romantic like you, Cancer. Venice, Alexandria, or New York are all blissful possibilities. Be sure to get a few good restaurant recommendations before you leave -- it's much easier for you to appreciate unfamiliar surroundings when you've got a full stomach. Try planning your trip around the Full Moon, when you're especially adventurous.
Leo (July 23 - Aug. 22)
You Lions need a vacation getaway that affords plenty of glitz and glamour. An eye-catching creature like you will feel right at home in Vegas, Los Angeles, or Monaco. Or indulge your wild-child side with a safari or eco-tour. A trip to an amusement park like Disney World could also bring out the kid in you. Make sure you go with someone who shares your love of death-defying rides!
Virgo (Aug. 23 - Sept. 22)
You're the type of traveler who likes to plan out every stage of your journey, Virgo. An organized tour of an exotic land might be just the thing for you. Hire a local tour guide who knows all the best places to shop, eat and relax. You get a secret thrill from experiencing the daily customs of a different culture. Exotic countries like India, Egypt, or Peru can offer just such an exciting challenge.
Libra (Sept. 23 - Oct. 22)
Libra, you're not content to just laze around a secluded villa. You want a vacation destination that is sociable, stimulating and sophisticated. A sparkling city like Rio, Paris, or London is your cup of tea. After you've finished taking the shops and museums by storm, you're likely to head for an old-world hotel where you can relax and unwind in beautiful surroundings.
Scorpio (Oct. 23 - Nov. 21)
When you go away on vacation, Scorpio, you rarely leave a forwarding number. That's because you want to truly get away from life's daily distractions. Renting a private beach hut on St. John might be the ideal getaway for you. Taking a ghost tour of Salem, Massachusetts, might appeal to your love of mystery. If you're in the mood for adventure, consider going on an archeological dig in some out-of-the-way place.
Sagittarius (Nov. 22 - Dec. 21)
The more far flung your vacation destination, the better, Sagittarius. You've always been captivated by foreign countries. The prospect of staying in Third World surroundings doesn't faze you in the least ... it's all part of the adventure. Going on an extended camping trip is also a good possibility for you. Consider renting an RV and heading to a majestic spot like Yellowstone Park or the Grand Canyon.
Capricorn (Dec. 22 - Jan. 19)
A refuge from civilization might be just what the doctor ordered for you, Capricorn. A trip to a mountain resort can clear your mind and ease your anxieties. Alternately, your appreciation for "days of yore" may prompt you to head for an antique fair or estate sale. Stringing several such trips together could prove very relaxing. You might also consider visiting a childhood haunt that conjures fond memories.
Aquarius (Jan. 20 - Feb. 18)
You're the type of vacationer who wants a unique travel experience, Aquarius. A boat trip down the Amazon or hike through the rainforest are just the sort of journeys that appeal to your adventurous spirit. A visit to the Galapagos Islands might also satisfy an eco-minded person like yourself. If you need to stay closer to home, you can always head to the Epcot Center for an exciting change of pace.
Pisces (Feb. 19 - March 20)
Pisces, you're seeking a vacation getaway that allows you to drift, dream and fantasize. You'd do very well at a spiritual retreat that encourages meditation, prayer and introspection. Staying at an artists' colony can also be tremendously rewarding for you. Ultimately, though, you're just eager to get away from it all. Staying at a vacation resort during the off-season could be sheer bliss.
Get answers about your year ahead with a personal Big Picture Yearly Forecast report from Tarot.com.