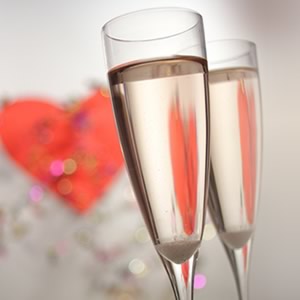 Are you ready for Cupid's annual celebration of love? Even if you're not the romantic type, this is the day for couples to fan the flames of passion by romancing your sweetheart. For those of you who are romantically impaired -- or stumped for a new idea this year -- here are some gifts and activities that are sure to warm the heart of each horoscope sign.
Aries (March 21 - April 19)
These pioneers adore firsts, so plan something you've never done together before. It could be as elaborate as a hot air balloon ride or as simple as a stroll in a new garden or park. Bring along a few surprise gifts -- a single rose, a love poem to share or some tasty treats you know your Valentine craves.
Taurus (April 20 - May 20)
The best way to inspire these earthy souls is with sensual pleasures. Schedule a massage, facial or pedicure for your loved one. Or perhaps you would enjoy soaking in a hot tub together. The perfect accompanying gift would be a luxurious new silk bathrobe, or a set of fluffy towels you can both use.
Gemini (May 21 - June 20)
Write a romantic story about how the two of you met. Print it, cut it up and lay it out with pictures of the two of you. Save the best photo for the cover, if you like. Take the whole thing to a print shop and get it bound into a book. Tell your sweetheart you wanted him or her to have a copy of the best book you've ever read.
Cancer (June 21 - July 22)
Moonchildren are saps for romantic traditions. Start with a sugary-sweet card personalized with a special message from you, then lead your love to the candlelit table you've decorated with hearts and fresh flowers. Pop the cork on some champagne and serve the special dinner you've prepared with all of his or her favorite foods (and using cherished family recipes!).
Leo (July 23 - Aug. 22)
Book a session with a studio where you can make your own music video. As long as your sweetie is the star of the production, they'll be happy. If that's too elaborate, try a session with a photographer or simply find a photo booth. To make the day more memorable, dress up in costumes to look like your favorite historic couple.
Virgo (Aug. 23 - Sept. 22)
Just because Virgo is one of the more sensible, down-to-earth horoscope signs, don't be tempted to give a practical present. Even for these no-nonsense souls, romance rules, so look for a set of Valentine's undergarments. Buy a virginal white piece for your proper Virgo, and a racier red piece for his or her secret naughty side that only you get to see.
Libra (Sept. 23 - Oct. 22)
Whatever you do, don't take this sign shopping. His or her indecision will drive you nuts. Instead, for her, give an enormous bouquet of flowers in pastel hues. For him, try one of the new scented aftershave skin moisturizers that are popular with today's sophisticated metrosexuals. Don't forget to pledge your everlasting love with a special card, too.
Scorpio (Oct. 23 - Nov. 21)
Scorpios adore a mystery, so create one. Give your lover a card each day of the week before Valentine's Day. Make sure each one includes a clue. On the big day, help your sweetie put the clues together to find the special place you've planned for dinner, live music, a movie or whatever entertainment you know he or she will enjoy.
Sagittarius (Nov. 22 - Dec. 21)
The obvious gift for this adventurous horoscope sign is a trip to a place he or she has been wanting to visit ... but if that's not within your budget, assemble a travel package full of brochures, pictures and other information you can use to plan your dream vacation together. To enliven your imaginations, tuck in some music and scents from your special place.
Capricorn (Dec. 22 - Jan. 19)
Caps love revisiting the past, so this is the perfect day to relive your first date. Dress up in the clothes you wore (or similar ones) and go to the same restaurant or venue. If you can remember any conversations you had, all the better. Bring along a CD player and play some of your Valentine's favorite tunes from that era, or pop them in your car's sound system.
Aquarius (Jan. 20 - Feb. 18)
Since the digital age was made for this horoscope sign, a gift certificate to iTunes, Netflix or another online entertainment supplier would be much appreciated. Or make a donation to a favorite charity or political candidate in his or her name. One caution: this isn't the most sentimental sign, so steer away from mushy cards.
Pisces (Feb. 19 - March 20)
For your Pisces partner, find a beach or shoreline where you can take a romantic stroll together. Before you go, write a love note and tuck it into a bottle. Carry the bottle out of sight. When your date isn't looking, pull it out and toss it ahead along the shore. Imagine the impact when your loved one picks it up and reads your heartfelt message!
Get personal love advice with a Big Picture Love Forecast from Tarot.com!