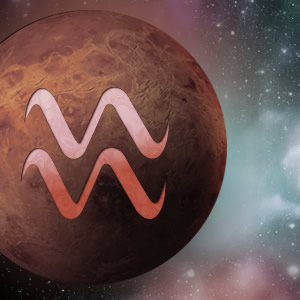 Love will always be unpredictable, but the confusion of romance doesn't have to stop us dead in our tracks. When we sync up our love lives with Astrology's loveliest planet, Venus, we can approach each romantic situation with confidence, reflection and a dash of humility that keeps us learning and growing.
From January 3-27, 2015, the partnership planet Venus will be coasting through idealistic and detached Aquarius. Venus loves the wide open spaces of Aquarius, where love takes on a lighter form and invigorates our lives with a breath of fresh air. It's a great time to break out of stale habits and reinvigorate our relationships.
Because Aquarius is an unconventional sign, even experimental, this lovely cosmic hook-up is perfect for opening our minds about how and who we love. Under this influence, it's easier to see that there are no rules in romance, making this the perfect time to question long-held beliefs about relationships and to revise what isn't working.
Consider the intensity of affection you feel for all the people in your life now. Aquarius' optimistic approach can point out better ways to strengthen our connections and express our feelings in more interesting ways. If you're single, look around you to see what potential partners you may have overlooked. Someone you've previously written off as "just a friend" may suddenly have partnership potential. Because Aquarius is a somewhat philosophical sign, this is also a great time to ask yourself whether you truly want a significant other now, or simply a lover.
If you're happily coupled off, you might find that you and your sweetheart feel a lot freer to be individuals within a couple. If neediness has been an issue for you, Venus in Aquarius makes it clear that pursuing your own passions separately enriches what you bring back to the relationship.
Do keep in mind that Aquarius is more about the head than the heart, so if you notice less sentimentality floating around in your relationship, have no fear -- it's a natural side effect of Venus in Aquarius, where the emphasis is more on ideas than emotions. But while you and your partner (or love interest) may be doing more conversing than cuddling now, expect the unexpected: Aquarius likes to keep things spicy and unpredictable, and passionate Venus certainly won't argue with that!
See what's in store for your love life with a Big Picture Love Forecast from Tarot.com!