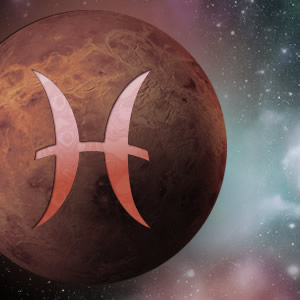 Good news, lovers! Venus, the passionate planet of partnerships, will make her grand, glamorous entrance into the dreamy sign of Pisces on February 10, 2018. Our approach to love and partnership is impacted by whatever sign Venus happens to be in, and romance doesn't get much sweeter than when Venus is exalted in emotional Pisces.
The last horoscope sign, Pisces is where the barriers between individuals and within us melt away. It is about unconditional love and spiritual love that can make two hearts beat as one. There is some risk of romanticizing situations and allowing fantasies to overcome reality while Venus is in Pisces, but overall something truly magical happens: These two bring out the best in each other, and love is cast in an even sweeter light.
It's easier to "get in the mood" with your lover, because Pisces is all about tapping into your imagination to create an alternate universe entirely your own, no matter what other stresses and concerns exist in the outside world. Pisces is not the most reality-conscious sign, so it's a great "enabler" if you want to escape for a weekend away with that special someone ... or if you want to overcome fears you've experienced about approaching someone you've been in love with from afar.
Warning: Venus in Pisces can also fog up our judgment of attractive strangers and even inspire us to overlook our partner's flaws, so it's not the best time to make a commitment, unless you've had plenty of time to get to know your "better half." And when Venus is in Pisces, it's easy to feel the full force of "love at first sight" -- so make sure to respect yourself and your own boundaries when you're taking the first steps toward a connection with someone new!
Still, seeing other people in an idealistic light isn't always dangerous. If you're in a relationship where you've felt nitpicky about your significant other's shortcomings, enchanting Venus and compassionate, daydreaming Pisces can make you fully appreciate what you've got.
And whatever our relationship status, this kind of loving appreciation extends to our feelings toward relationships in general. It's a great time to conquer fears of commitment or, on the other extreme, abandonment, because Venus in Pisces allows us to experience the free-flowing nature of romance with less hesitation or expectation. In other words: Those of us who want a solid commitment won't need to see a ring to enjoy romance!